Hey guys, Vilya here! This week it's time for us Swedes to celebrate christmas!
Teddy is already back at his hometown catching up with friends and family and Fred will leave later this week, so it's time for a little break to recharge our batteries. Before that though, there's one more weekly recap!
Since we live on the island where our gamedev education was held, every year there's a couple of fun events for us alumni to attend. Last week was one of them: the Alumni Days!
The Alumni Days consist of 2-3 days where people who graduated come back to school to hold lectures on what it's like out there 'in the industry', answer questions at a panel, plus attend some parties and dinner(s)!
This year was an absolute blast, and there were a lot of great lectures, all of which will eventually be uploaded on this YouTube channel (some are already there). Go check it out if you're an aspiring dev – there's already a ton of lectures from previous years too :)
This year's edition went on from Thursday to Saturday, so there were three days of lectures and hanging out with other devs from our old class (among others)! While living on this isolated island can be quite trying sometimes (everything else is sooo far away), it's great to be able to meet up with everyone like this and get inspired by other developers.
And now, the present version of the room from last week! Time to break some stuff :3
As with the previous battle room, I added a bunch of random stuff to the floor to make it look more interesting. The pure water has become a sickly green, and the tree has turned a more sinister shade (if there is such a thing as a sinister shade)… :)
Next, time to start working on the final room of the shrine in Tai Ming's third zone! And it's quite a large one…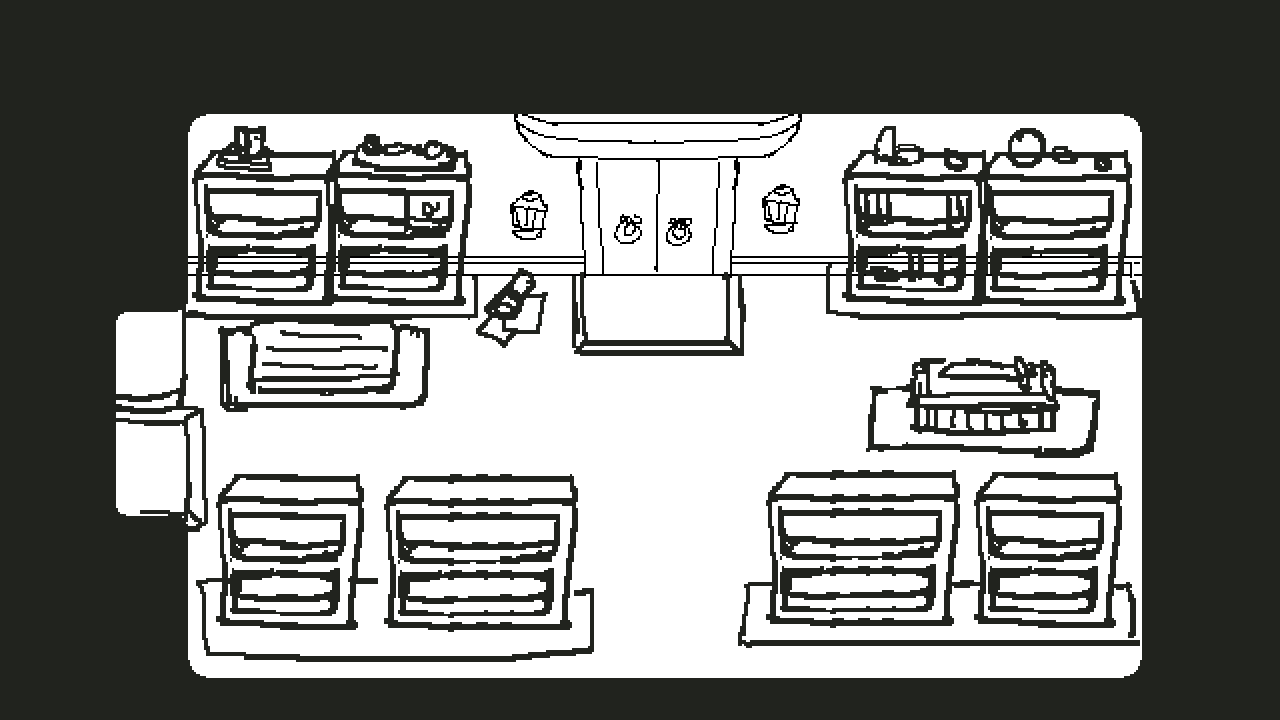 So, this room is a kind of storage/library room where a lot of artifact and treasures will be housed. Because painting all these items will take a lot of time, I decided to split this post in 2-4 parts (depending on how much stuff I end up recording/creating GIFs of).
In this first part, it's all about the basic stuff, creating the backbone of the room: floors, walls, bookcases/shelves that will contain the items. In the next 1-2 parts I'll be making a bunch of GIFs of the items and shelf-doors, etc, being added! And of course, after that we need to make a present version of the room as well :)
After step 1, here's what we got:
Some of you might remember Professor Pine, the guys behind the "diary entries" of Flying Fortress? Well, time to meet the guy!
Actually, you won't exactly meet him… But you WILL watch him do some talking many years ago, through a flashback orb! What could he be doing in Tai Ming?

With my parts of Tai Ming almost being finished, it's time to start looking ahead and think about what's coming next. First up, we're gonna update Arcade Mode, adding the Mt. Bloom and Tai Ming floors (and after that likely spend some time adding bonus things – Housing for example). Once I complete the final things for Tai Ming (the final room + cards) that means I'll be focusing on Arcade Mode backgrounds and a TON of furniture, which will be a lot of fun!
After that, it's finally time to start with the next area… I've already completed most of the art for the desert, which is supposed to come after Tai Ming, so for me that means I'll begin playing around with the harbor town that comes after it. Then there's only two temples/dungeons left! I can't believe we've actually come this far, haha. Though it's been 5 years already it feels like we began working on Grindea yesterday. Time flies when you have fun, and working on this game has definitely been a blast from the start!
Definitely looking forward to another year of fun gamedev, and I hope you'll all stay with us through our journey! After all, without you guys there would be no game. So thank you for the support, and I hope you have a happy holiday/merry christmas/just a wonderful time :D
See you next year!!