The past week we've continued our quest to get all the skills into the game. This time, the third and final fire spell joins the fray! Its working name is Flamethrower, and it's a close ranged, channeled spell which does massive damage to anything in front of you.
Click on the image to view an animated gif!
To use this skill effectively, positioning and timing are very important. You'll want to be able to hit your enemies with the full channel without getting caught by flanking enemies, or hit by a counterattack in case the enemy is too tough to stunlock!
The skill channel is both shield- and movecancelable, meaning you won't be stuck if things get dangerous. The uncharged version will cancel if you move, but if you get the Silver Charge at level 5, you can move while channeling, enabling you to easier land the full damage.
Vilya has also been getting back into portrait duty. Here are some of the new remakes, featuring the rival Marino, bandit leader Vilya and her minion Teddy: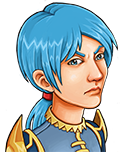 The Arena has felt a bit emtpy and dead for a while, so Fred have spiced things up with a live audience! The audience is a single 100×100 animated tile that can be looped seemlesly.
Click on the image to view an animated gif!
Besides animation work, Fred put in a Arcade Mode session on his livestream this Saturday. For anyone intrested in seeing one of the devs getting stomped by Arcade Mode, you can check out the VOD by clicking here!