Hey guys! Sorry for this extremely late post, I've been in the midst of moving and with things still being pretty chaotic around here, I simply forgot to schedule the draft – oops!
Right now our full focus is on the very final boss battle, against Zhamla. While the prototype for the battle is nearing completion, we still feel like something is lacking. Nothing big, just a lil something extra. Our current focus is playing around with tweaking and/or adding bunch of new attacks, patterns and phases to see what feels good and what doesn't. Overall though, I think it looks absolutely amazing, and can't wait to show you guys!
We'll try to record a bunch of videos over the weekend so you can see some of the juicy stuff in action, but for now, here's a bunch of Fred's animations: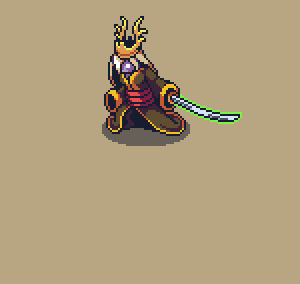 As for me, I've made a new kind of HP-bar as part of the boss battle against Zhamla! This bar is for Braazlet, who you'll have to defeat before you're able to do any real damage to Zhamla himself. In the videos we've shown before, we're using placeholder graphics, so it was definitely time for me to add some proper graphics!
I've also made a proper background for the Frosty Fiend portion of Zhamla's boss battle! As with Braazlet's HP-bar, we previously used placeholder graphics for this, but now it has its very own proper background: