So the time is closing in for us to say farewell to the Halloween forest. Although it has been a lot of fun to do something new and exciting, all the props have been made and now only detail work (like actually putting it all together in the game) remains. Last week was spent mostly on that note on the programming and animation side and will probably continue on like that during this one.
While we're shifting our main focus from the Halloween Forest in order to connect it to the rest of the game, we'll try to set some time aside to record a gameplay video of us fighting inside it some time in the coming weeks!
Vilya's final stretch in the forest was to make these portraits:
These are the NPCs you will encounter along the forest! Who they are? Remains for you to find out!
What we'll do after this (and which Vilya has already gotten into, as you will soon see) is to return to the city of Evergrind, filling it with indoor designs and people. We're also gonna look into adding more skills and expand our menu and level system in the near future, so look forward to that in the coming weeks!
Before that, however, here's a sneak peek of two buildings that will be featured in Evergrind:
This is the Dojo, a place ruled by a great master of all fighting styles. Perhaps he can show you a new trick or two?
Another way to learn different types of tricks is to attend school: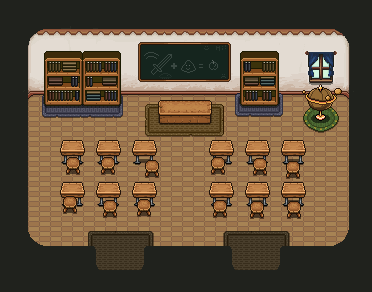 Here you can learn details about monster types and other helpful hints and strategies that will make your grinding life easier.
Next Week: More indoory stuff for Evergrind, and tying up som loose ends of our good foresty friend