After a few weeks of vacation and rest, we've been itching to get back to work! First of, we would like to thank all of you who played the beta and took time to write your first impressions. We've been going over all the feedback and there's been tons of useful suggestions from everyone. We've already decided upon a few big changes, revamping the early parts of the game a bit to make the story more present being one of them. So once again, thank you.
In other work related news!
With just a few animations missing here and there, the Winterland enemies are getting very close to completion. Below are some animations for the Christmas present enemy we showed a while back.
We've also decided to add another version of the Christmas present in form of a ranged, green sibling.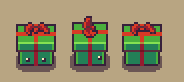 We hope you have all enjoyed this summer as much as we have! Stay tuned for more updates and weekly recaps as usual from now on :)