Beta Info
Big thanks to all the people taking part in the beta! An extra shout out to all the guys and gals who took the time to write up feedback for us. It means a ton to us and will really help us make the game as good as it can be.
To all of you who have signed up for the beta but haven't got the chance to play it yet, hang in there! We will be sending out a batch of new invites when we are ready with a new update for the game. We are working hard on some new features that are in the need of testing, hopefully it will be worth the wait!
Production
As for the production this week, we have done some changes to the Collectors Exam the players must pass during the early parts of the game in order to become a Collector. For those of you who doesn't know, the exam is divided into a three part trial. Initially the three parts were treasure hunting, puzzling as well as a juicy combat part.
After some feedback and a lot of talking and discussion within the team we decided to change the treasure hunting into a fishing event instead. The main reason for the change was that the fishing system is used much more frequently through out the game, so it made more sense making it a part of the trials. It also streamlined the introduction of the fishing much more for us, something that we have been having headaches over for a while.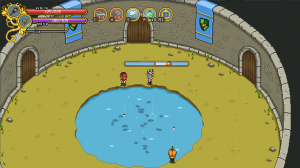 The fishing even in action!
Besides reworking and touching up old things, we have made some new progress.  We have started working on a new boss! Two actually, as they are a pair of demon twins. They are an optional encounter, but we are putting just as much love and care into them as the main bosses.
We'll not dive into detail into the mechanics of how they work since they are still in the prototype stage, so you'll have to do with some eye candy and the promise of fierce boss battle once it all comes together.
From early design sketches to finished sprites!
And some freshly baked animations!