So last week our goal was to each come up with one or a few design ideas for the first floor in the final dungeon, after which we'd go through each of our suggestions and pick our favourites, building our dungeon one floor at a time.
As we mentioned, our guidelines were to remind people of the journey they've made throughout the game, bringing back "old classic" events and mechanics. Some of our ideas for the first floor, representing the very beginning of the game, ranged from battling your own sword and shield, a bullet hell with wooden swords, bees circulating around you and attacking you one by one, or an arena where you battle a block puzzle that comes alive.
In the end we decided to combine a few elements of the early parts of the game, namely the arena trials, finding your shield and sword to proceed and battling the Black Ferrets on the bridge. Our main idea is that you'll start on a Pillar Mountains looking area (perhaps even a pillar), where you have to find your sword and shield by fishing and solving a block puzzle while the Arena commentator Mr Plott comments on what you're doing, and you'll only be able to proceed after handing your items to Grandpa Joe who blocks a bridge over which you'll battle an ever increasing amount of Teddy & Freddy, culminating in a battle against Vilya herself before you'll be able to progress to the second floor, a floor which will be centered around the Pumpkin Woods.
We also decided on some details around the dungeon. Previously, we've decided that the thing that turns the dungeon into what it is is an ancient artefact mirror, which transforms the tower into challenges to stop you from reaching the top. As such, we want to incorporate various mirror effects here and there (like for instance, Grandpa Joe shattering into glass pieces when you show him your sword and shield, enemies spawning by appearing through mirror glass and such). We also reiterated that we want the main focus for each floor to be something iconic to each part of the game, focusing on the story beats and 'feel' of certain areas.
Next up, the Pumpkin Woods floor! For the this we felt the key component was the curse of the woods, making you unable to progress, and the hunt for each of the items needed to clear the curse. To capture this, our idea is to create a set of rooms with a 'lost woods' feel where you'll end up back in the first room by taking the 'wrong' exit, and having you battle five mini bosses in a room each.
The mini bosses we have in mind here are Pumpking and Helloweed from Arcade Mode, plus a similarly difficult mini boss based around Jack o' Lantern which will also appear as an Arcade Mode floor boss later on! We'll also design a challenge based around the Jumpkins and Ghostys.
For the Jumpkins this will most likely involve a living-vegetable like mayhem room with loads of jumpkins, while the Ghosty challenge idea we have so far is more about finding and defeating the correct one out of a bunch that will surround you – though our ideas here are still very much up in the air. For now, our main focus around this floor is the feel of having to cleanse the wood once more, this time by collecting the items from more difficult enemies than simple elites like you had to the first time around. We'll dice into more specific design details once we get to this floor, our overall idea holds regardless of how we design the challenges.
Once you've defeated all of these mini bosses and collected their key item, you'll be able to cleanse the curse with the aid of a Grindea statue, just like in the original Pumpkin Woods, complete with a minor appearance from Bishop; after that, it's onto the next floor, featuring the Flying Fortress! :)
Now, you've seen a bunch of Bishop's attack animations made by Fred, but now that we have a basic sketch for the arena, it's time to start some prototyping of the fight!
At the moment, Bishop has three distinct attacks/patterns, but we have plans to add more as we go along. For now it's a sword-throwing attack, a giant scythe attack and an attack where a bunch of Bishops emerge from the ground with spears:
We know Bishop disappears a bit into the dark background when he's towards the top of the fight area, but we have plans on making him more visible by adding a shader that makes a subtle aura or outline around him when he's against the dark parts. Other than that, what do you guys think so far?
In Arcade Mode, it's high time we get a proper map through which you can track your progress! As such we've been talking about various ways to illustrate this, ending up with illustrating them as isles: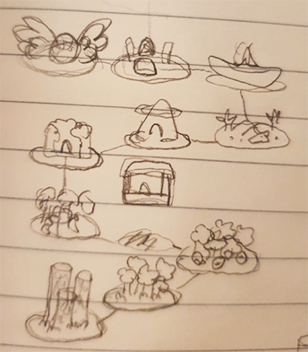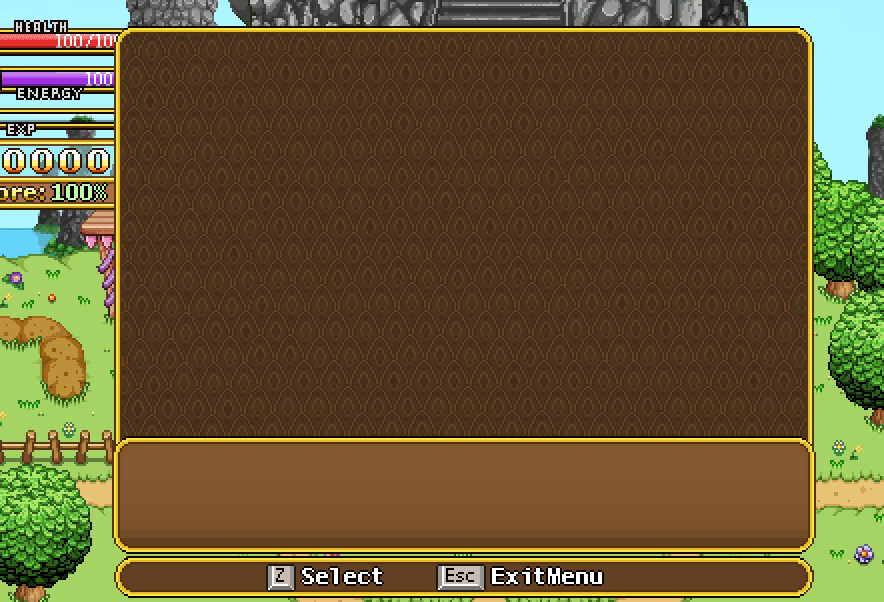 Now, the layout of these isles isn't in it's finished version here, the idea is that we want to illustrate how you move upwards a bit more, so we'll play around with how we place the isles as we move on; and as such might change the design of these isles a bit as well.
On top of that, there are two more isles missing – that of the room where you get your reward for finishing Arcade Mode, and the bonus floor you get to only if you're strong enough! These will only be added once they've been made in their proper forms in the game, though, so I know exactly how to design their isles.
In Fred's department meanwhile, it's all about Bishop and giving him more animations! Let's have a look: