Alright guys, Vilya here! Sorry for being a day late, it was my turn to write the blog post yesterday but honestly it was a really long day, and it totally slipped my mind. But hey! The good news is I spent the time working on Temple of Seasons rooms for Arcade Mode instead..! :D
In case you missed it, we've updated the frontline beta with multiplayer support for the Temple of Seasons! That means it's time to dive into the dungeon with all your friends and hunt those bugs down!
Anyways, Fred has gone to Germany this week, where he's busy making video reels with animations to show our beloved sound designers. So, instead of his fancy work you'll have to make do with some of my desert WIPs:


A mysterious desert house!

A couple more versions of the bridge!

Making a huge tree that's been dead for quite some time!

…But now it's coming back alive, thanks to you… If you complete a certain quest, that is ;)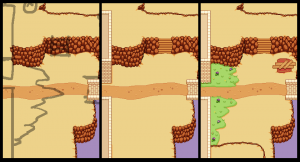 WIP of the entry to the next area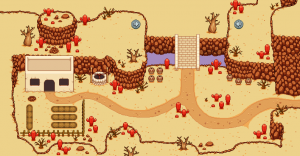 The part with the house, all decorated and done!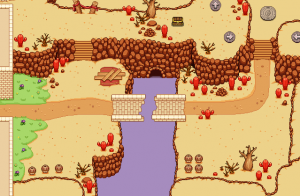 The part with the town wall, all decorated and done. Beyond this point you'll find a small town… But it's kinda hard to get there with that bridge all broken, isn't it? Guess you'll have to fix it somehow, or find another way to get there..

I know a lot of you have been curious for stuff Teddy does as well, but this week, I wouldn't ask for it if I were you! You see, it's that time of the year where companies need to start handing in tax reports and annual records of what their company has been up to, so it's all paper work and no fun! :(
However, he's also getting started on implementing more floors for Arcade Mode, so we'll get into that soon enough…!
Thanks for looking, and for the comments you leave every week! Hope you enjoy <3