This has been a busy week! Progress is coming along on the final cutscenes and battles (not much to show there due to spoilers, though), and I've finished up some more of those final bits and pieces, this time some season decoration for one of those last puzzle rooms (to make it more clear which season you're in):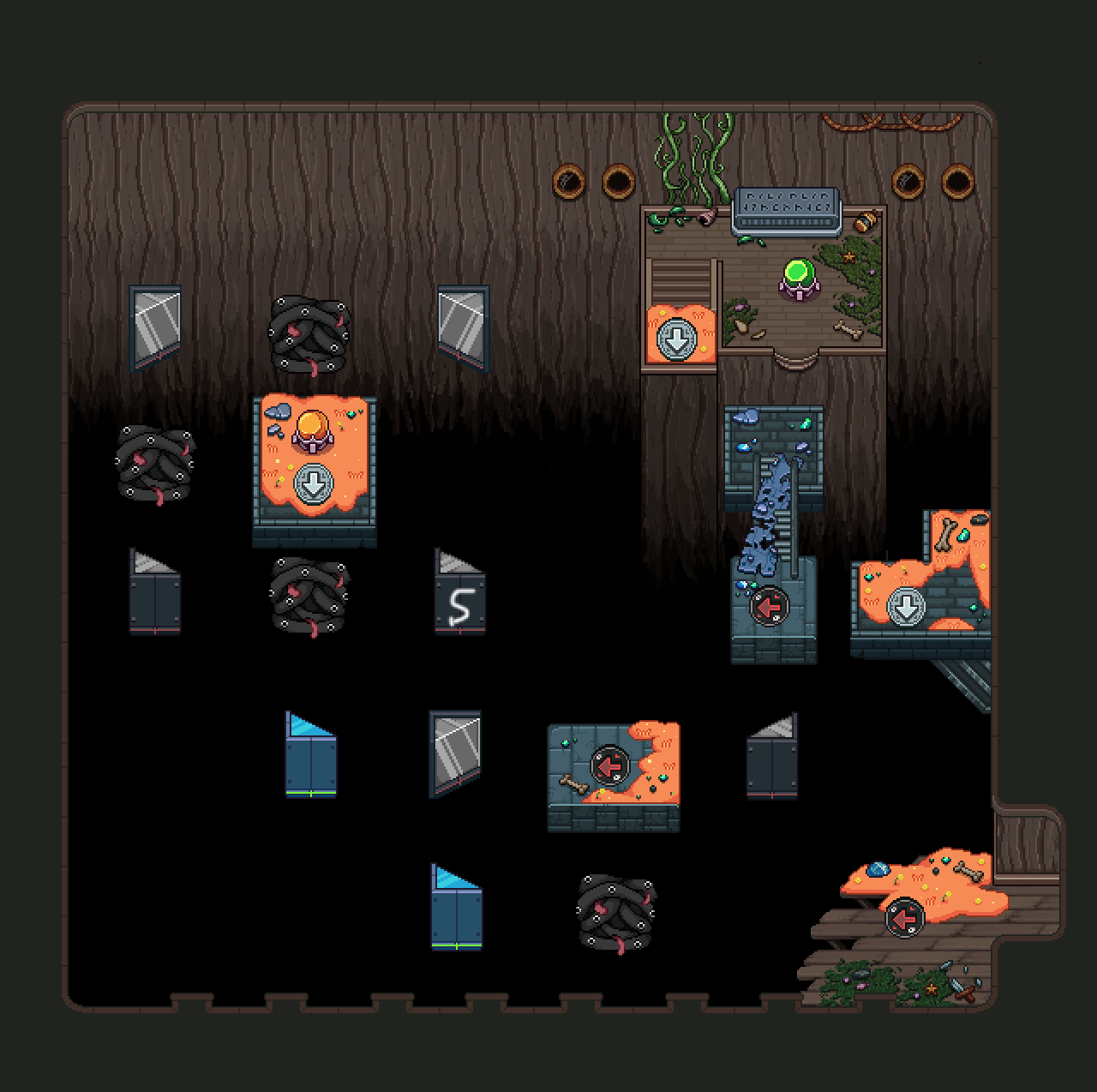 I've also started working a bit on that Secrets of Grindea Visual Novel we mentioned a long time ago. 'Why in the world are they making a visual novel?', you might ask. A Visual Novel is, after all, quite a leap from an action RPG!
So, what's a visual novel?
If you're unfamiliar with the genre, a Visual Novel is a game genre where most of the story is told through text or dialogue and where the player's main interaction is choosing what to say or do in certain situations. In doing so, the player transforms the story and the fate of those involved in it depending on their choices.
A lot of Visual Novels involve romance, but not all.
While it's true that our main focus within Pixel Ferrets has been (and probably still will be) top-down Pixel Art games, this as of yet untitled Visual Novel won't exactly be a Pixel Ferret game. In fact, that's the reason why I'm making this – I've more or less finished all there is for me to do on Secrets of Grindea save bug testing and updating already existent graphic assets. Fred and Teddy, on the other hand, still have a number of things they need to finish and this leaves me with with quite a bit of time before we can start discussing our next project together.
And so, we've decided that instead of twiddling my thumbs I'll start making this visual novel and we'll see how far along I can come before they're done. If I manage to finish it before we start the next project, it'll be released as a companion piece to the Secrets of Grindea world, and if not, I'll continue working on it on my free time until it is completed.
I picked the Visual Novel genre because it's very heavily reliant on graphics and writing, which happen to be what I enjoy the most. It also doesn't need as much programming knowledge as the more technically complex action RPG genre, and as such, I should be able to make most of this game on my own while Teddy and Fred finish up SoG.
I'm actually super excited to get started on this for real. That feeling when you start a new project is exhilarating to say the least; all those opportunities of where to go and what to do within each new story!
Well, what would you guys like to see from a Secrets of Grindea Visual Novel?
If you'd like to read more about the Visual Novel progress or read up on my other work (as well as get art/writing/gamedev tips & inspiration and pictures of the office cats and chickens (yes, we have 4 chickens now)), I've reopened my blog again – in fact, the above text is a copy-paste of a post from there.
We're not sure whether any more Visual Novel progress will be shared here – after all, it's quite a different game. What would you guys prefer?
Until next time :)