Finally, the second zone's on Frontline! It only took about 4 months guys!! ;) However, if my (Vilya's) playthrough of the area is any indication (1 hour 20 minutes), it's a decent amount of playtime for that amount of work, at least compared to our previous areas.
I know it's hard to believe, but our workspeed per playtime has actually increased with this dungeon, though it's pretty huge and ends up taking a long time to finish anyway ;P
Anyway! We'd love to hear how long it takes you to play the area, if you got stuck anywhere, what you liked/disliked and, of course, any bugs you found! Please spam away, we'd love to hear everything (and feel free to link us any cool Let's Plays of the area, as seeing how people think and try to interact is extra important in this area).
Here's a bunch of the stuff we made for the second zone, before we released it this weekend:
First up, the final room of Puzzle World! Part of this area will be looking over the sea, with the Pillar Mountains (among other things) in the background. Because of how incredibly long it took to paint the backdrop, the video I recorded got super long, so I decided to divide it in parts:
This first part is all about the actual area your character will be able to move around in. It consists of the same type of environmental decorations as the Mount Bloom outskirts, with the addition of some rocks and details from Evergrind Fields and Tai Ming.
Second part of this scene is all about the backdrop! And what else would it contain, but your old home, the Pillar Mountains?
Painting this took a long while, much longer than I'd hoped, seeing as it's mostly water and a few islands! But since I'm used to painting smaller props rather than distant backgrounds, it took some time to get used to the change :)
Once this was finished, we added a bunch of birds and some clouds floating in the background as well:
I mentioned before that I was gonna make standing versions of the old and worn statues. This is pretty much to make it easier on us, as we don't want to worry about where to put which statue if two would fall on top of each other. Instead, they'll remain upright: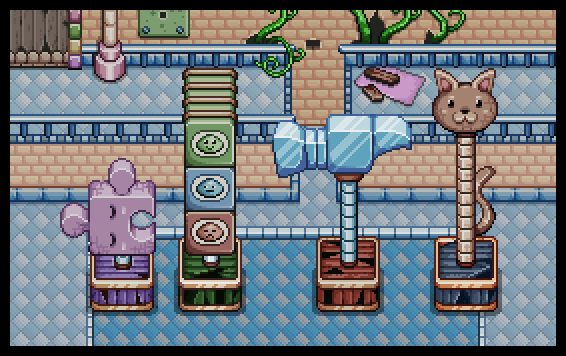 One key part of the puzzle is to deal with the glass box somehow, and so I had to make a version of it that's completely smashed as well! Some pretty fun stuff, lots of glass pieces :)
This grave has a bunch of flowers that stand out from the rest, and it's for good reason, relating to a quest:
This room felt a little too clean, so I went back to it and added a bunch of planks and the remains of the poor old flowers. Likely nothing would remain of the plant this long since it died, but as long as it looks better this way, I'm all for it ;)
I also added a bunch of rocks surrounding a box in the water next to what we call "Granny's house". This is to signify that you cannot move this box (while you can move a bunch of others):
The current box also looked a bit too fresh and clean for the present version, so I made another version of the box(es) to suit the time jump better:
There's a strange puzzle in the upper parts of this map (which isn't completely shown in this picture), and one part to the puzzle is that you cannot move things around in the present. As such, I made a version of the puzzle block that wasn't able to withstand the test of time, and has crumbled too much for you to be able to push it around (video game logic)!
Seeing as the alcoholic beverage hidden in this room was turned into an ale rather than a wine, the color was changed to better suit the drink in question!
While Bag has made do with the same faces for a long, long time, it was finally time to add another couple of expression! Well, in fact, we just needed the one, but due to some miscommunication I misunderstood the mood asked for, and we ended up with two instead! Maybe the other one will have some use in the future… :)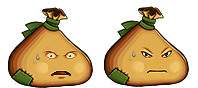 This lady isn't too happy about her daughter being interested in the strange Flying Fortress people visiting town, so she had to get a more displeased expression as well:
We also realized we needed to block the way south in the Path Puzzle's past state! This was done by adding a bunch of boxes:
Whatever happened to this guard's hat?! I guess you'll have to find out by playing through the zone! In either case, he needed a portrait without the hat, so I made one: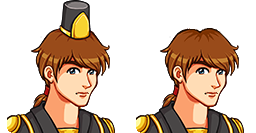 Due to a slight rewrite, we decided to open up the door to the Puzzle World WIP, and add a small sign letting you know that something is ahead:
Previously for the Monkey mini game we used a placeholder key, which was actually a much smaller one that was resized in Photoshop. Good thing we remembered to swap it out for this new sprite:
A line of rocks were added to show you where you cannot push certain blocks that can be found on the lower level of this zone. You can (and should) still run past the rocks yourself though:
Due to some grim times up ahead in Tai Ming, we decided it was time to increase the number of tombstones in the cemetery greatly, too… Whatever could be happening? The answer awaits you in the third zone!
Finally, two new zone titles: one for the second zone and one for the third (which I, as I write this post, have actually started working on already! Wohoo!)

…Actually, there was another portrait added, as well! :)
This is Nolea, a character that's a homage to the main character of CrossCode:

While being based on Lea visually, this character is quite different from her CrossCode counterpart. In fact, she's a cyborg built built by the Flying Fortress crew with multiple personality and vocabulary settings. How advanced!
She'll be hanging out with the other Flying Fortress guys in zone02, demonstrating the newly invented Phase Shift techniques.

For Nolea, I had to make two different expressions, but as I was creating them I had a hard time picking between a couple of variations, so I ended up making 4 instead. I'm still not sure which 2 actually appears in the game, as I told Teddy decide as he implemented them, and I haven't talked to in-game Nolea since then…

This week, we'll likely take care of any bugs that appear through the frontline testing, as well as add another bunch of polish. I'll also continue working on the third zone of Tai Ming, which will conclude your adventures in this mountain. How exciting!
Until next week! :)