Time for another room in Marino's mansion, and this time it's his father's throne room— errr the second corridor. The doors will lead to the master bedroom and Marino's room respectively:
Next, another face from the Mansion, the private chef responsible for the fancy dinners hosted at the estate:
Now, for the actual quest challenge where you'll be battling it out in the arena using some pretty trash but fancy looking gear! First up will be a couple of regular waves of enemies, featuring the various types you might have come across here and there across the game thus far. After that, there's the grand finale, a mini boss battle/challenge featuring one or two elder boars!
In the first iteration, we had one elder boar and a bunch of red slime falling down from the sky:
As you can see, there's puffs of smoke coming from the boar as he charges around, and stepping into these dust clouds will make you temporarily blinded!
As you can see, we have added a bunch of obstacles in the arena which you can lure the boar into, making it get temporarily dazed. These obstacles respawn in new positions after the boar has destroyed all of them, and as always with early prototype videos like these they graphics are placeholder:
As shown in the above video, we follow the 'rage' theme of the elder enemies with these boars as well!
In the next iteration we removed the red slime but added another boar! This is our favourite iteration so far, a bit more action packed and without the annoying slowing slimes:
Next thing I've been working on is some sweet PR for that event in the arena that we're all so excited for! At first, James was the supposed hero of the show, so to start off with these posters will appear in Evergrind City around the time when you can accept the quest: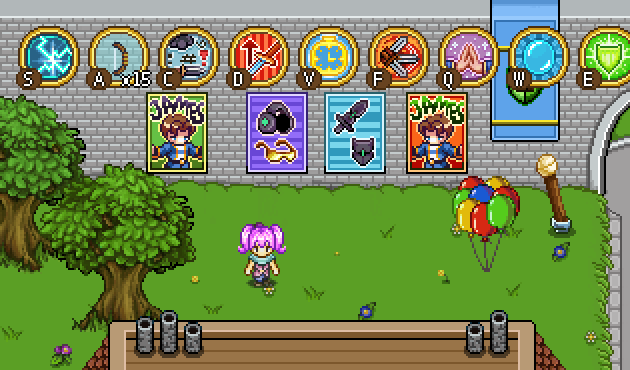 However, as James can't attend and you've had to take his place, there will be slight adjustments once you've accepted the quest, meaning your face will be all over the posters instead! Of course, the PR team doesn't have all the time in the world so there will have to be a quick solution instead of reprinting:
The actual face of your character will be rendered into those blank pages so you'll be able to recognize your own character as the hero of this event! Hopefully you won't let the PR team down with your performance in the show ;)
In Fred's department, the animation madness continues with more sprites for the upcoming next bit in the journey to transform Remedi back to his former self! As such, a 'death' animation for the troll was needed, as well as a potion pitching move by Remedi's quick nephew: