We're back guys! Seriously, having a couple weeks off has been great and we're now super excited to get back to work and finish this game up! Thank you for being so understanding and supporting us throughout these years – what a journey it's been, and still is. Now as we're drawing closer and closer to the end, it's time to start taking a look at one of the final battles – the one with your own dad. We've been working on a bunch of attacks for him, so let's have a peek:
No Grindea boss is ever really complete without having to dodge a bunch of stuff, am I right? So to start off, he'll have one attack featuring Amalet and his annoying energy orbs, while you also have to dodge that annoying sword you just found out about.
Speaking of said sword, it's sure out to get you, and has a bunch of attacks of it's own – here with the aid of a Gaantlet teleport:
Some more dodging action:
And Gaantlet creating ice fields to make this battle even more difficult, oof: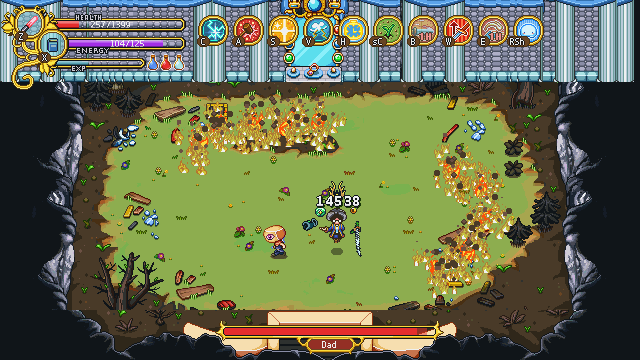 The attack above looks a little wonky as it's been recorded in 30 fps – don't worry, it's gonna look a lot better in the actual game with the actual graphics.
And here's a little sequence featuring the attacks we have so far in various patterns, giving you a little preview of what parts of this fight might look like:
All WIP still, of course! In Fred's department, he's been busy making the proper animations for the attacks we've come up with this far, so here we have a couple of them:

Next up, I'll be working on the final backgrounds, the last few puzzles and the last couple boss portraits! So close now :)