This week, Vilya is back in action and has continued working on some new backgrounds as well as playing through the game to catch things we've forgotten to add. So far she's written a list of over 50 things, and she's still only just finished the Temple of Seasons! Not to worry though – most of these things are super small things that will only take a couple of minutes to fix, or optional things we may or may not add. Some may even be added post-release! And some we probably won't fix at all due to them not being as important as we first thought.
As for the backgrounds, here's another iteration of one of the puzzle backgrounds:
I think we're getting to a point where we're all pretty satisfied with the way it looks now. What do you guys think?
As for Fred, he's continued working on the summons! Remember the Frosty Fiend smash animation from last week? It's now officially in the game and looks like this:
He's also been working on a charge animation, and some projectiles for the Plant summon: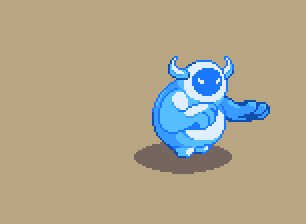 Teddy's been sick for a while yet, but he's finally getting better and ready to get back into action this week. Stay tuned for more updates next week!