This week it's finally been time for us to build a new area! It's a somewhat traditional forest-y area which houses one new enemy, the bowman's house and a mysterious mansion…
While it's not in the game yet (soon!), here's a WIP preview of what it'll look like: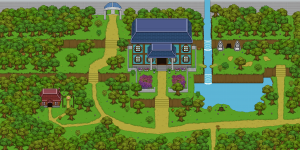 Yes, as you might guess that means it's soon time for the bow to reappear in the game! It won't have its own skill tree like the traditional weapons, but we hope you'll like it none the less. We'll talk more about the bow once it's actually implemented along with the rest of this area.
As for the new enemy, it's of course the boar that has made an appearance on this blog before! This time, however, it's animated – and out to get you!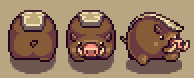 Can you name the Ragnarok Online inspiration? ;)
Now, back to area-building! With some luck, there might be yet another area available soon after this one.. :>