It's time again for our weekly recap – this time we have a bunch of random things, as well as some good news:
For a long while now we've had some pretty tough time communicating due to us living in 3 very different parts of Sweden. However, as of last week Fred and Teddy has finally moved back to Gotland and are now roomies – something which we really hope will improve the speed and quality of the production.
Their first mission will be to finish the main boss of the dungeon! We've been saving it since it needs a lot of fine tuning and screen pointing, which is cumbersome to do online.
As for the work we've done this week, here's a bunch of random stuff:
Here's the interior of the treestump previously seen in a screenshot of the Fae village. This is where the Elder Fae gather to keep order in the forest and among their kin.
And while we're on the topic of Elder Fae, we've shown you 3 before, representing Winter, Spring and Summer. Here's the last one, representing autumn: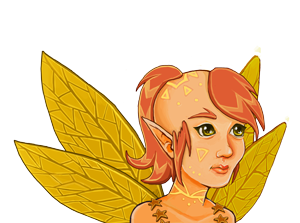 In the animation department we have an effect which you'll see in an upcoming mini-boss fight with the mysterious Phaseman:
There's also this a scary-but-kind-of-cute enemy roaming the snow lands we've been working on lately:
Lastly, we present to you the Ice Spike skill, a spell which we actually completed a very long time ago, but which we haven't included in the beta as of yet. This skill will make ice spikes appear in the direction you're casting it.
Click on the image to see the animated gif if it doesn't play automatically: