Another week has past by with some decent progress being made! Teddy has been away to act as yet another judge, this time for the Swedish Game Awards which we happened to win last year. Best of luck to all the participants!
Vilya has been busy adding more touch ups to Mount Bloom. Below is a picture of an area that will hold one of the many side quests Mount Bloom has to offer. Crystal mining is risky business, even for seasoned Collectors!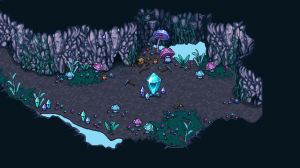 Fred has been working on animations for a couple of upcoming skills, mainly from the One Handed Weapons-tree. Below are some effects for one of the new skills, at the moment named "Shadow Clone".
We'll hopefully be able to talk more in depth about them next week when they've been properly implemented into the game.