This week Vilya worked on the arena which now is in waiting-mode while Fred takes care of the next step! It is almost done, but need some tweaking and of course an excited crowd to watch your trials.
While waiting, she spent her time making portrait for a cutscene involving the first mini-boss battle, a mean bandit leader and her two thugs.
Next thing she went on doing was small props to be placed all around the city. Many more to come, of course:
Fred has spent some time adding a few flavor animations to the bandit gang, this here showing one of the thugs cheering on as the leader fights the player/players!
But mostly he has been busy with bringing the first boss to life! Even though being sick (damn you Vilya!) he has been able to finish up most of the animations, with just a couple left to clean up!
We don't want to spoil all the fun by revealing too much about the bosses yet, so you guys will have to settle with this for now! Who's that pokemon!?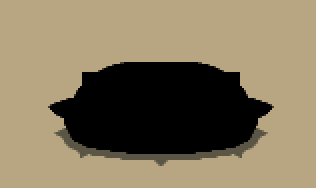 -Weekly Programming Haiku-
"Written destiny,
even Escape brings same end:
The Wobbling Giant."
[I have made some in-game cutscenes, and also implemented the first 'real' boss. Of course, unlike in some games (looking at you Tales of Vesperia), you can press escape during a cutscene to skip it!]
Next week: The city keeps growing and the first NPCs moves in! Also, treasure hunting (for real this time!)