We got some pretty exciting news. We've been invited by our old school to tag along to Dreamhack Stockholm this coming weekend to showcase our game at the game expo!
This will be the first ever visit to a Dreamhack event for all of us and even though it's not one of the big ones (Dreamhack Summer & Winter) we are all super pumped to showcase Grindea, talk to people and watch some e-sports! If you are in the neighborhood, drop by and hang out with us!
Anyways, the most common usage for the Season Change Ability will be to open up new paths to explore. For Fred, this means a lot of animations for different obstacles to block the progression for the players.
Most blockades will only be opened during a specific season and closed during the other two. The Phase Shift plate below for example will be blocked by the giant lily pad during the summer and frozen shut during the winter.

And to end this post, here's a couple of the rooms that Vilya has been working with: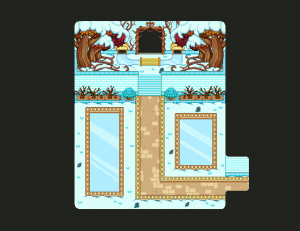 See you next week!