For quite a while we've been going full steam ahead on the main story, focusing all of our effort on the Temple of Seasons. With the temple being more or less completed, we are taking a short vacation from Story Mode to focus on its beloved sibling: Arcade Mode!
Vilya has been busy puzzling together an array of graphical assets for Teddy to use for the upcoming Temple of Season-floors. The Season Change orbs will make the perfect Arcade Mode hazards, setting the stage for some beautiful chaos!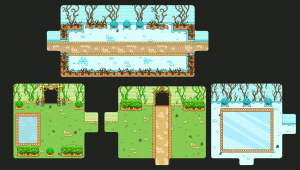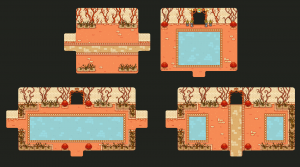 While Vilya have had her hands full with the temple-floors, Teddy have been making sure that the Winterland-floors are up to par with the previous ones. Below are a somewhat graphical WIP of a Toy Factor puzzle turned Arcade Mode challenge!
While it's not exclusively Arcade Mode, Fred (who's finally back after his trip to Berlin, wooho!) have been in the animation workshop, crafting a bunch of
new weapons 
for you Collectors to farm your hearts out with!
I know a lot of you will be disappointed that the spear isn't being handled like an actual spear. Since introducing a whole new weapons class would be too much work at this point in time, swinging spears like an uneducated fool will have to do for now.
We've tried to compensate this by creating the first Twohanded Staff (2H-weapons that boost MATK), something that have been requested for a while!