This week we have continued to refine and change small parts of the city. There's always things to change for the better, so it's quite easy to keep busy that way..
One of the many touch ups Vilya has been working with this week is giving the old dirt roads a face lift! Shout out to the guys over at the TIGsource forums for their great feedback and keeping us motivated!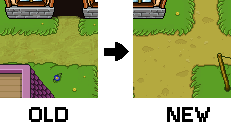 Anyway, we continue on, this time showing you another screen (an animated one on top of that!) of another part of Evergrind City:
(Click the image to watch it in full size and animated!)
Fred keeps filling the city with NPCs and animations, to help Evergrind come to life! Some of the stuff he did this week can be seen in the screenshot above.
There's still a ton of NPCs and other animations to go before Evergrind is even close to finished, so stay for more of the same the coming weeks!
Also, as promised, below is the song that's playing in Evergrind City! It's written by Andrew Riley of Luckylionstudios.com, who's composing the entire soundtrack for us!
[audio:https://www.secretsofgrindea.com/wp-content/uploads/2012/01/Andrew-Riley-Secrets-of-Grindea-OST-Evergrind-City.mp3|titles=Andrew Riley – Secrets of Grindea OST – Evergrind City]
Author's comment: "I wanted to write an upbeat, fun song, with a certain sentimentality that would come with spending time in the city with your friends. I hope you enjoy it and thanks for listening!"
-Weekly Programming Haiku-
"Formed by pixly gods
Brought to life through wizard's writ
Art of crafting games"
[Teddy has mostly been busy with his favourite part of the job: implementing the tidal wave of stuff created by the artists!]
Next week: We venture indoors in Evergrind and we take a shot at spicing up the combat!