This week Teddy spent finishing up the translation tool (finally!), which should go live in a few days! He's now looking into starting up that cutscene business for real, just as Fred has finished his part of that job, giving him a ton of sketched out animations to work with.
Now, instead of cutscene things, Fred is working on a new mini-boss that you'll have to face soon after the cutscene ends:
Yes, it's a Queen Bee!! :D Do you feel the horror?!
Vilya, meanwhile, has been all over the place, starting off by creating an interface for Mold Essence in Arcade Mode, which allows you to turn essence into visual upgrades & housing items (among other things):
She then moved back to the time travel area, creating hats, masks, drops and portraits to fill the area with life & loot: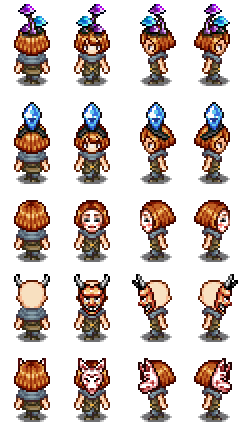 And that's all for this week! Next up will be prototyping the cutscene, bug fixing the translation tool, and preparing Evergrind City for the next installment of the main story :)