Yes, it's another week of festival stuff! And most likely there will be at least one more before we're completely done :)
Vilya has started working on the treasure cave, where the flashback cutscene involving your mother Charlotte and the dragon will take place: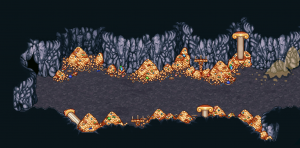 The cave will be filled with gold and treasures of various kinds, and this here is only the WIP of the left part of it – in the end it'll be twice as big!
We also decided (thanks to Owns suggestion on the forums), to add cutouts to the festival, which you can stand behind:
In the end our idea is that you'll be able to ask Luke & Marino (whom you're at the festival with) to stand behind them as well, and we're currently looking into the possibility of having a cameraman who will create a screenshot for you after you press a button. Not 100% sure if that will work yet though, but we think it'd be pretty fun!
Other than that, a lot of new expressions have been made in order for the characters to express the right feeling(s), both in the flashback cutscene (young dad!) as well as in and around the festival:

More to come next week!
Finally, Fred has started working on another mini-boss battle that will take place near the festival in time, and I'm sure you've been missing these guys: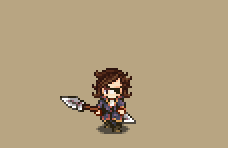 Excited yet? Hang in there for a bit longer, the festival is just around the corner! :3