If you checked our Forums or the Steam updates, you probably know this already, but if not: the main story part of Mount Bloom is now available on the Frontline beta!
This is an early update, so some vital things are still missing! For instance, most things in this area lack the proper sound effects (and a lot of 'em are completely silent as a result). We also haven't added any side quests or secrets to the mountain – that's what we'll be working on the next 1-2 weeks or so. But it's now possible to run through the part of the main story that will lead you up to the door of the next temple. Once we've thrown in a couple of side quests, added the proper sound effects and patched it all into stable, we'll continue working on the actual temple!
For now though, it'd be awesome if you guys could run through the mountain and let us know of any silly bugs you come across!
Anyway, as you can guess, last week was all about getting this patch up and running. While Teddy furiously put everything together Vilya made the last few backgrounds. So here they are: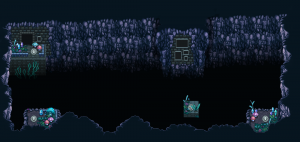 And now, we'll go back to adding side quests and picking out sound effects! See you next week :D