Hey guys! It's me, Vilya, again! I'm the one who usually writes these blog posts, but as I've been gone for a little more than a week taking care of a critically sick cat, Fred took care of the last two recaps.
Since we all used to live together (me, Teddy, Fred and the two cats), and we still get together in the same apartment for work every day, the cats are very dear to all of us, meaning it's been a tough couple of weeks. BUT, good news, Link the cat seems to have stabilized for now after a super serious and seemingly random bout of severe anemia, which had him hospitalized for over 5 days at one of Sweden's biggest animal hospitals. He's still eating a ton of medicine but he seems to get more and more energetic every day, so let's hope he makes a full recovery!!
We're officially back in the office and have been working as usual for a couple of days, so things should hopefully be back to normal unless something else happens! For this post, let's take a look at some of the things we did before going away, which didn't make it to a recap yet!
First up, continuing on Zone02 we have been adding the ancient version of the collector's HQ:
Here you'll get a quest or two that need to be finished before you can continue your adventured deeper into this mountain village! There will be a bunch of ancient collectors sparring here as well, which should help making the area feel alive :)
Oh yeah, and those shops below the HQ?
We decided to make them actual shops so you don't have to travel all the way back to Evergrind in case you missed buying something there! Here's their interface graphics:
I also went ahead and connected the road leading from the HQ and the building to the left with the exit to the third and final Tai Ming map, meaning the only major thing left to finish on this map is a gravesite in the northwest: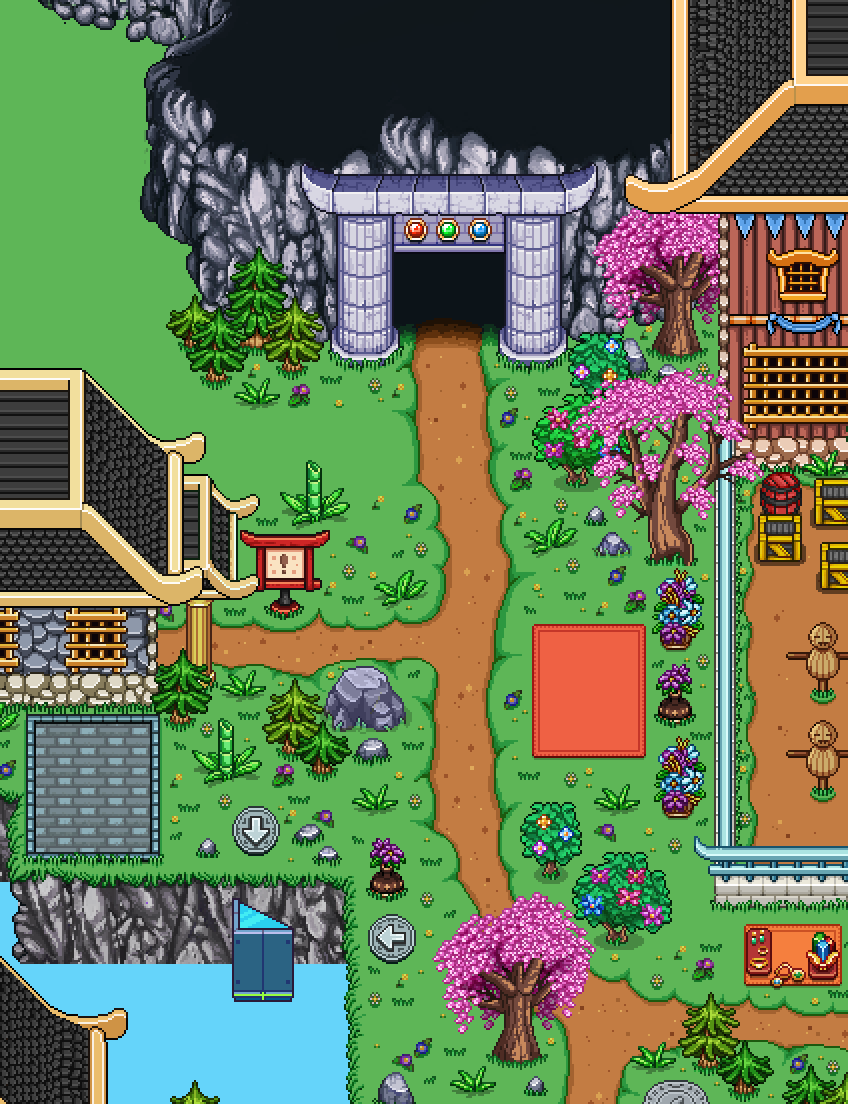 We also decided we wanted the bamboo decorations to be destructible, and in a pretty fun way at that! Instead of destroying the whole thing at once, you'll have to whack 'em down, piece by piece. As such, they are now made of several parts:
And when you decide to destroy them, this is what it'll look like: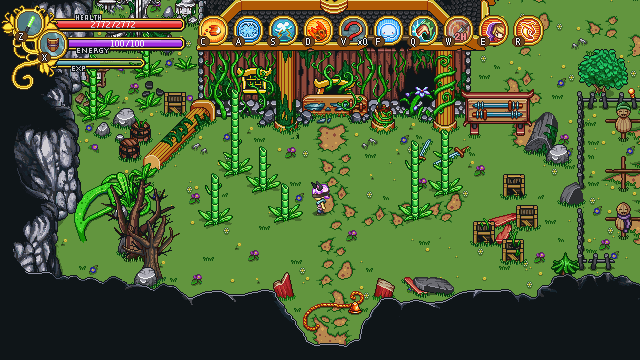 Although we might add some additional effects, such as shaking of the sprite!
Finally, to mix things up, a portrait:
It was such a long time since I made portraits, but I have to get used to it quickly again! There will be a lot of NPCs in this village, after all :)
OK, that's all for now, time to get back to work with full speed!!! Please stay healthy little cat, we have a game to finish! :D