Hey guys!! It's been another week, and it's me, Vilya, back to bring you another recap of what's been going on in the Pixel Ferrets office!
Last week I made the past version of the final Puzzle World room – this week it's time to transform it into its present version! Since this is the last room before you manage to get outside again, I got to add some vines again! Long time no see:
I also got to paint a lot of cracks on the huge glass thing, which also is something I love doing. Nothing is more soothing than listening to music (or an audiobook) and just painting crack after crack… Well, since we wanted what's inside to be somewhat visible I decided not to go too crazy with it. Not sure how it'll turn out in the end though, maybe I can add a few more before calling it a day… :)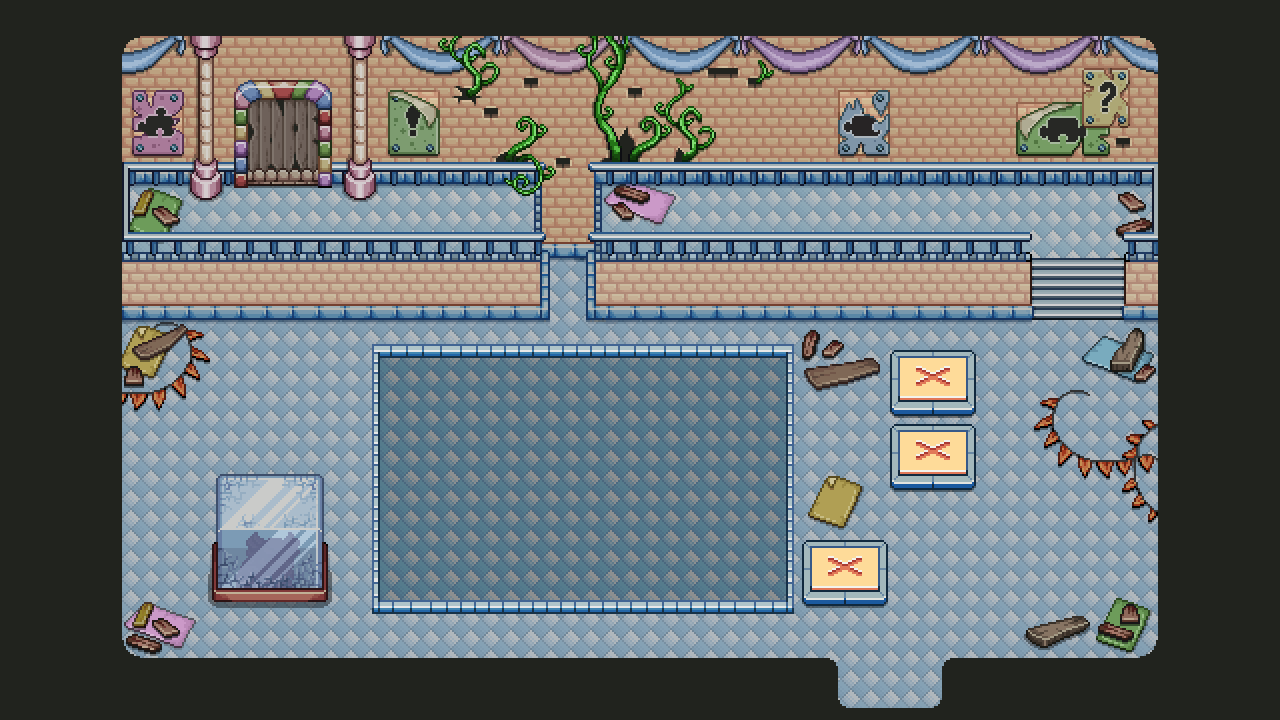 Next up, I should start making the statues you'll use for this room's puzzle! First, a video showing the progress of making the past versions:
Since the progression from standing to fallen statues happen as you time travel, there's no need for animations. As such, I was also able to make the present, crumbled ones:
To make it easier seeing where any given statue needs to go, we decided to keep their boxes on the floor (who also got slightly different dimensions since the last post) in the present, in various states of decay. The alternative would have been to have the statues fall with base and all, but we believe this makes it easier to read which statue is where on the puzzle floor.
There's still two things I need to make for this room. First we need standing, decayed version of the statues for present times, as the statues won't fall if they're standing next to a statue that would block the direction it would have fallen in. This is mostly to make it easier for us – instead of having to figure out how to stack the statues on top of one another, they just won't break as severely if it means they would have fallen on top of another statue.
I also need to make a broken version of the glass box in the lower left corner, so it's possible to let out the statu– whatever's in there. But, that's for another day!
Next up, as Teddy has been working on the cutscenes in Tai Ming's second zone I decided to go over the dialogue and start making a bunch of expressions so that can be properly finished!
First up is Tessen, the little girl from the first zone who has grown up to become a young priestess of Grindea:
She's both happy to see you, and has some serious worries on her mind. Wonder what those are about..
Next up, Zhamla:
Since his adoptive father's speech about being strong, Zhamlas life has taken quite a serious turn, and unfortunately there's not a lot of room for positive emotions in his life nowadays.
Speaking of adoptive fathers, Zisou's life has actually become a bit more lax these days, so he can afford a smile or two – but there's still room for some quite serious expressions in there as well:
The second batch of expressions features four different characters:
First, the dam manager, who has quite a bunch of expressions, as you can see! He has both a serious(ly annoyed) and goofy side, and quite a peculiar quest to bring these expressions out!
The ancient Quest Master, Quinton's ancestor(?), has a few more expressions than his present day counterpart. He has added both surprise and happiness to his range of emotions!
Mana, the lady with the dog in the first zone, has become older and grayer, but is still quite the happy person, while young mister Go, still is quite miserable in his adult form. He was the kid who lost the key in the first zone, remember? Poor Verment, he has had quite the tough life!
Finally, some Caveling animations from Fred! What are they up to in Tai Ming?!