Happy New Year (and we're back)!! Have you had a nice holiday? We took about a week off to recharge our batteries, but as of last week we've all returned to the office to get back to work.
Remember before christmas, when I (Vilya) started working on the final room of Tai Ming's third zone? Well, over Christmas I went ahead and finished it!
One big focus of this room is the shelf doors! Since the shelves will hold a bunch of different items, many of which aren't books, I thought it would be cool to add doors and make them look a bit cooler. Plus, variations and all. So I made four different sets of doors: two types of glass doors (one long and one short) plus two types of wooden doors (one long and one short).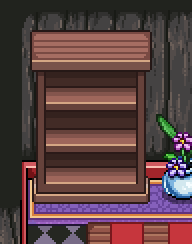 In the end the smaller wooden door didn't get used, but who knows, maybe it'll turn up in the future somewhere!
After creating the doors, I began adding a bunch of random props, some which have been used before in various places, as well as some edited stuff:
Next up, painting a bunch of unique props to spice things up a bit:
Some of these items are inspired by various items from other media. Can you figure out which ones and what they have been inspired by? :D
Finally, here's the finished past version of this room! Whew:
Now, all great things must come to an end (or so they say), and that includes fancy storage room! Forgotten by all, it has decayed and turned into a mess. Main part of turning this room from past to present state involved creating a ton of holes in the carpets. I also threw some random trash on the ground to make the room feel more messy:
In the end, here's the rather bleak main version of this room (you'll actually only spot the past version through a flashback orb):
Now, before Christmas break we had some majord design talks which I may have mentioned in a previous thread. One thing we talked a lot about was Arcade Mode. And there's some pretty huge changes coming…!
There's no secret we want to add a bunch of new room types and challenges to Arcade Mode. We have a ton of ideas and it's likely we'll begin implementing some of them once we're done with Tai Ming. However, there are more radical changes coming (though I'm not sure how soon)!
First up, the town will get a lot bigger with many new kinds of special buildings, and you'll be able to choose which ones will appear first as opposed to the way things are now, where the town slowly updates depending on your total score. This will likely be handled by putting up a bunch of indicators for what will appear where on the map (like signs or character explaining what will appear if you if you 'choose' that one in particular).
We're also reworking how you gain Essence! We'd like to reward everyone more evenly/steadily rather than giving almost no Essence to some and a TON of it to others, depending on how well you do on a run. So if you're one of those who don't typically get a lot of essence, you'll likely get more, and if you tend to get more essence than you can handle, you'll probably get less.
There MIGHT also be another currency, or rather a rework of an old one: gold! If we implement this, you'll keep any gold you get on your run + a bonus at the end of each run depending on how things go or how far you get (kind of the way essence works now, but gold won't be as important so we're more OK with the pro's getting more of it). The gold would then be used to unlock the hats and similar items previously exchanged for Essence by the Bishop (he will keep trading perks for essence, but his other shop functions will be moved to one or several other unlockable shops which use gold), as well as other new features.
So basically, Essence is used to unlock perks and town features where you can spend your gold (if the gold part gets implemented)! Whether gold gets added or not kind of depends on whether we feel there are enough cool things to spend your gold on, or if we'd prefer to keep most of it free of charge and use Essence for the rest.
——–
Typically this is where we'd have a bunch of Fred's animations, but since he's still working on some upcoming and very spoilerific cutscenes and fights… We'll keep those to ourselves for a while yet. Hang in there! ;)