Remember the Mimic boss? Improvements have been made, and the prototyping goes on!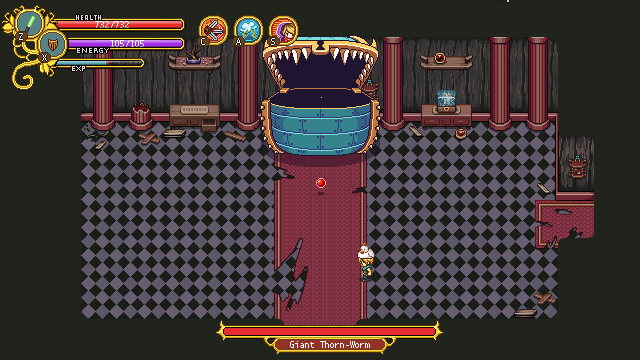 Since the last prototype we decided to keep the waves he spits out, but with mixed enemies, so there will be enemies from all around the world rather than from one area at a time. We also removed a couple of waves, since this fight likely is long enough as it is – this is stage 3 after all!
Occasionally while you battle the wave(s) he spits out, the Mimic will launch random disables or damage dealing stuff as well. These can be anything from bombs, slime, rockets, fire – you name it! These will be random, but certain disables/attacks don't unlock until you've progressed far enough in the fight.
Yet another step closer to finishing the map! Now there's mainly a ton of animations and polish, polish, polish remaining!! :D
…And of course… The actual background for the fight!
Right now the prototype version of the boss room looks like below (which can also be seen in the GIFs above):
After doing some thinking & talking, I made a sketch preview of what the finish thing could look like, and had it approved by Teddy and Fred before I began work:
The most complicated thing in the room is probably the painting – which we, oh irony, have decided to swap out for another one yet to be made. For now, here's this one, which will likely appear somewhere else in Tai Ming instead:
And here's the finished room for the first stage:
As the fight progresses, you will jump through time and the room will change. And so… On to stage two! For this one, some time has passed and it's time to break and demolish the props inside:
As I made this I did not yet know the painting would get swapped out, and so it too got a ruined version, though I do not yet know if that will be in the game or not. Maybe this will be the only time you'll ever be able to see it, so take a good look!! ;)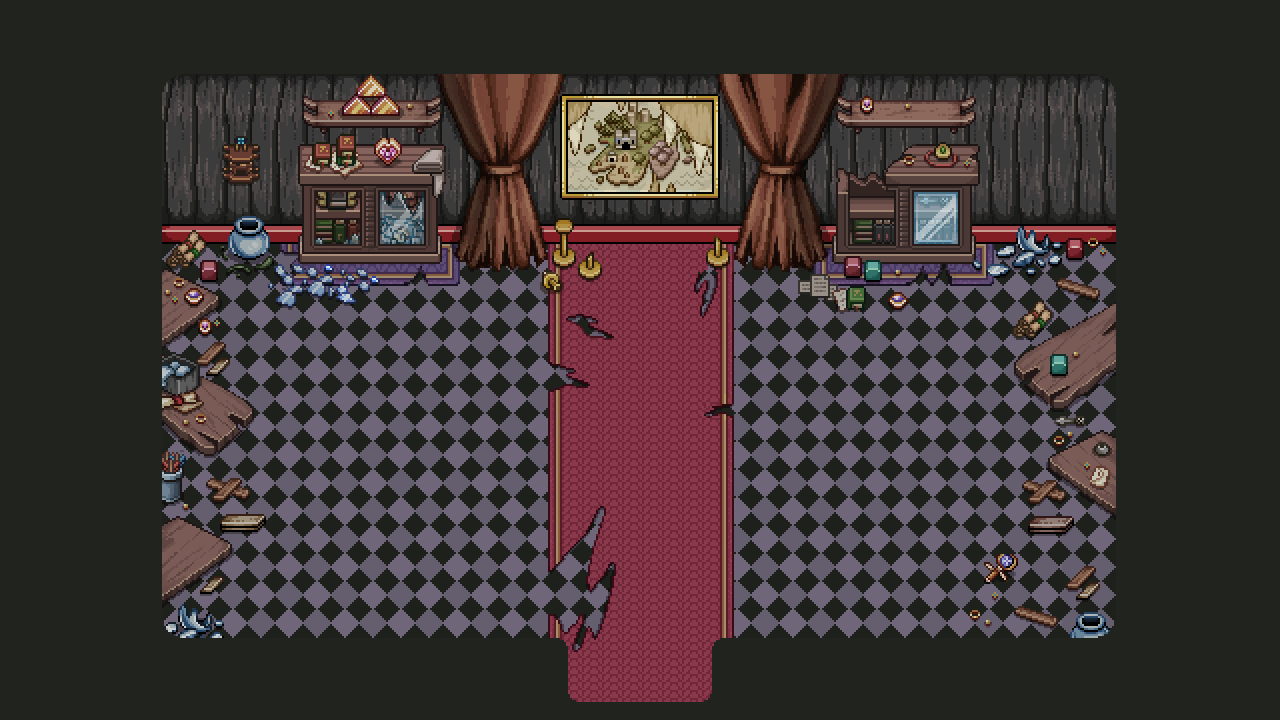 For the next stage, we jump back to our own time, and this particular room of Tai Ming has seen some serious ruin compared to the rest. But first…. some more housing miniatures!
With Tai Ming and Mount Bloom's housing items finished, it's time to create their miniatures and add them to the game, and this time I thought we'd mix it up with a video!
Only the basic items for each batch in this one – the video would be way to long otherwise! More to follow in another post. For now, here's the result from this vid:
And the large versions for comparison:
That's all for this week! Next week the work on the boss room continues, and we begin piecing together the cutscenes one by one. Stay tuned!