Finally(!) we are happy to announce that Stable has received the long awaited update, introducing Tai Ming in its entirety to those of you who haven't opted into the frontline updates! A quick rundown of what to expect in this patch can be found here.
Naturally, since we've spent most of our time last week preparing for the update, those of you who have played it might have already seen the following things. For some new housing items and a design question we'd like your input on, scroll to the bottom of this post!
First up though: when we talked about adding new items to the shops, we totally forgot about one pretty important store: the hat salesman! Because of this I went ahead and made a bunch of random hats for him:
We hadn't really discussed exactly what hats would be available in this store, so it's possible we'll move things around and have some (or all?) of these somewhere else before the game is done. There are a bunch of hats available that haven't been placed somewhere in the game yet, so if we feel any of them fit better we'll just swap them out. In either case, there can never be too many hats, right?
Next up, the final Merchant Isles visitor to join the group in Tai Ming:
This guy has traveled far in hopes of selling things in Tai Ming, however since he won't be let into the town itself (several years waiting time and all that), he'll have to settle for something else…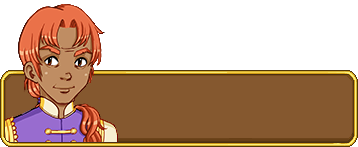 As we draw close to releasing the stable version of Tai Ming, there's – as usual – a bunch of tiny fixes needed as well.
First up: as you might remember, we talked about whether you'd be able to move a puzzle block to solve a puzzle in the middle of the Mimic battle. After our first discussion, we said it'd be possible to solve it mid-battle, but later on we changed our mind. For reference, here's the final stage of the boss room, the way it looked before:
And here's our solution: a bunch of wood that blocks the solution, so you can't solve it while the battle is raging:
Instead, you'll have to wait until after the battle, where some of the fire the Mimic spits out cause the wood on the map to burn:
Next, there were some sprites missing for the weapons in the area, which are now properly added, both in their proper animated form and as menu sprites:
Third, we decided to give that newly added Merchant Isles Merchant a couple expressions where he's a bit bothered by the fact he is not allowed to sell his wares inside Tai Ming:
And finally, we decided that each of these Tai Ming housing paintings will be their own object, purchased separately, and so I made miniatures for them as well:
And now, time for a bigger batch of Tai Ming housing item miniatures!
These are the wall decor items, and there's quite a few of them as you can see! I'm not sure if these will all be unlocked as part of the Tai Ming batch yet, or if we'll move things around a bit to even it out between the batches. The three rectangular paintings to the lower right only have one display miniature for now, since I wasn't sure if they were going to be objects of their own or various styles/skins of the same item:
And finally, something we'd like to ask our players regarding the Tai Ming floors of Arcade Mode!
The Tai Ming Arcade floors poses an interesting challenge that none of the other floors do. After all, Tai Ming is a town, and a town you can explore both in the past and present, so how do we properly convey that over a set of not-overly-decorated rooms where you battle a ton of monsters?
The first thing we decided was that there would have to be enemies in both past and present state rooms: we definitely want to include the time travel aspect in some way, and keeping the past rooms enemy-free (as they are in Story Mode) just isn't an option.
As for the layout of the floors, we have two options.
Option #1 is to have the Tai Ming floors be about half as long as a regular Arcade Mode floor. That means there will be half the amount of rooms, and your goal is to find a specific room which contains a time rift that allows you to travel forward in time, passing through the rooms once more in another time!
For example, say you begin in past. You battle your way through a set of different rooms, all decorated in Tai Ming's past style with cherry trees, statues and whatnot. Then you reach a big room, which is empty. This is the boss room, but you're not yet able to battle the boss because you're in the wrong time. You go back and find another room containing a time rift which you pass through. Now on your mini map the empty room gets the boss icon, and you start making your way back there.
Now that you're in a different time, all of the rooms have transformed into Tai Ming's present state instead, with the statues broken and cherry trees bare. In each room you pass, new enemies will spawn: you essentially battle your way from the portal room back to the boss room you found before. Once you reach the boss room again, you can finally battle the boss and get to the next floor.
There will of course be cases where you find the time rift before you reach the boss room, and in those cases the floor will be shorter than normal, since you don't have to backtrack through as many rooms.
The upside to this version is that you'll get to see each room you already went through in its past and present state, and that it makes these floors a bit more unique compared to the other floors of Arcade Mode. The downside is the backtracking, which might not feel as interesting as going through a unique set of rooms, and the fact that you have to find a specific room (the rift room) before you can progress through the floor as usual, which might feel annoying to some people.
Option #2 is a bit more straight forward. This idea is simply that certain rooms have a time rift you pass through as you go between one room and another, so some rooms will be past and some will be present. This means the floor will be the same length as and work in the same way as the other Arcade floors (when you find the boss room, it will always be in the correct timeline and you can battle the boss at once). What rooms will appear and whether they are past or present rooms will be randomly generated by the map rather than you going through a set of past rooms first, which then transform into present rooms.
Perhaps not as interesting mechanically, but might be more so visually (more unique rooms rather than two versions of the same, shorter floor).
———————–
Since we can't really decide which one we prefer, we'd like to hear what you guys think. Would you prefer Option #1 or Option #2? This game is designed to be enjoyed by our players, so we're very interested to hear which one of these you'd like to see!
In order to collect your votes, I have made a topic with a poll on our forums! Please cast your vote in THIS THREAD to let us know what you prefer. Thank you :D