After A LOT of crazy testing, the skill rework patch is finally up and running for Frontline users!!
There are so many changes (to skills) in this patch that a lot of them aren't even covered in the patch notes: it'd just turn out too long and detailed. Basically, pretty much every single skill has been adjusted in one way or another. Some have graphical improvements, some have new mechanics: most of them do more damage than before.
Because this is such a huge overhaul, we're (as always) looking forward to your feedback. We have tried to balance things to the best of our ability, but of course there are sure to be things we have missed or situations that haven't occurred to us where certain skills might end up too weak – or too good. So, as you play the game, please share any and all thoughts you have on the "new" skills, maybe especially those that have had their mechanics reworked, such as Smash, Titan's Throw or Chain Lightning!
Aside from editing every skill, here are some of the other changes that goes live with this patch:
* Magical weapons (wands) now produce an orb that shoots in a straight line from the weapon if it does not hit an enemy directly. Longer range for magic user, yay!
* HP and Arrows refill upon reaching a boss fight
* All spells are now able to crit
* Refunding skillpoints is a lot cheaper, and the cost is based on storyline progress rather than character level (as it was before)
The full patch notes can be viewed here.
Now that this patch is up and running, we'll await your feedback on things and take a much needed week off to recharge our batteries before the long and cold Swedish winter sets in! Because of this, there will be no blog updates (including the weekly recap), until we're back on Sep 11th, upon which my workblog will resume as normal. The weekly recaps will returning on the 18th.
First thing we'll do when we get back to the office is discuss all of the feedback we've received over the week (which we'll keep monitoring in case of game breaking bugs), and decide if there are more changes that need to be made, and if so, which ones. So make sure to share your thoughts on the rebalance, so we can fix anything that may not be working as well as it should! Best place for that would be in a comment here or at the forums. We look forward to hearing your thoughts :)
But aside from the rebalance stuff, we also continue working on the Arcadia things, and the second to last plot of the Arcadia Rework houses the player statue! It's been available in the original Arcadia for quite some time, and showcases a statue version of the character that has your highest score.
For the rework of the town, instead of having your statue standing rather randomly in the middle of things, it now has its very own plot with surrounding decorations, making it more of a centerpiece. The stand of the statue is also a lot bigger compared to the previous version as well, again to make it seem a little more epic on its own.
In the version below, the character is in full color – keep in mind it's just a sample. The real statue will be…statue-colored, like it is in the game at this point.
And now, only one main piece left of the rework: the Fae tree! This tree will house a bunch of fae, which needless to say brings more NPCs to your town, in the shape of tiny colorful sprites. The fae will be animated and added once it's in the game, but for now, here's their home:
And here's the finished thing! Of course, the map still lacks paths, a bridge and a ton of decorations among other things, but now all of the main pieces are made and it's time to start phase two, polishing and moving things around if needed:
And finally, to celebrate having completed a rather large milestone in the Arcadia rework, here's another desert portrait I made: It's been a rather long break after all! This time we'll make another sailor lad from the Merchant Isles: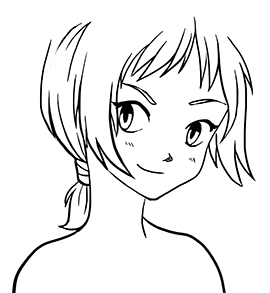 Like most of these characters, his story is not fully fleshed out yet, but we're drawing ever closer to putting the town together. Exciting times ahead!