We're in our new office!! Last Wednesday we finally made the move, but we had already started preparing the day before. Here's the old office in our apartment's guest room, as it used to be, and fully packed: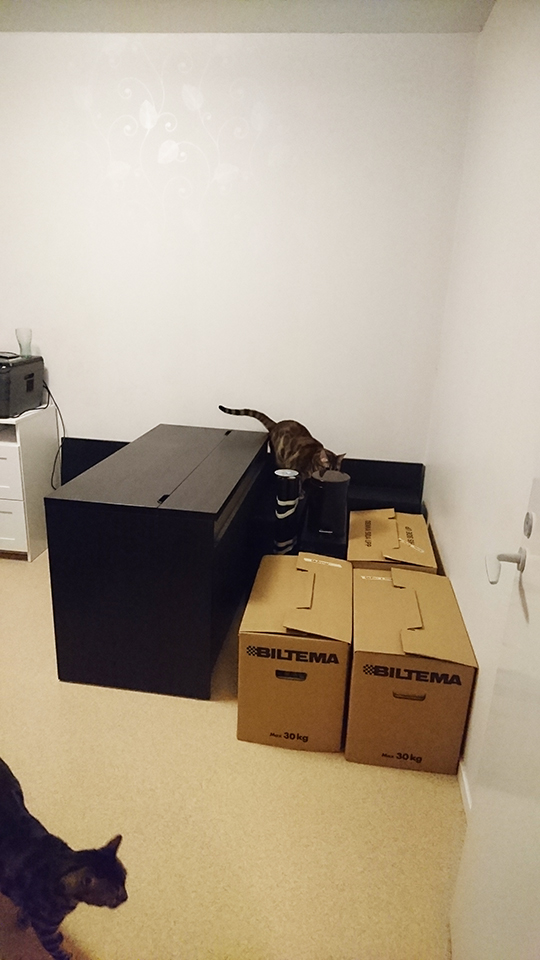 The saddest thing we'll be leaving behind is the cats! It's been so nice to be able to spend all day long with our lovely two cats, who will have to wait alone at home for us to return from the office every day now ;_;
Yesterday, the moving company knocked on our door at 8 am, ready to move our stuff. The whole thing took about an hour, plus another 30 minutes of putting everything together at the new office, here pictured empty: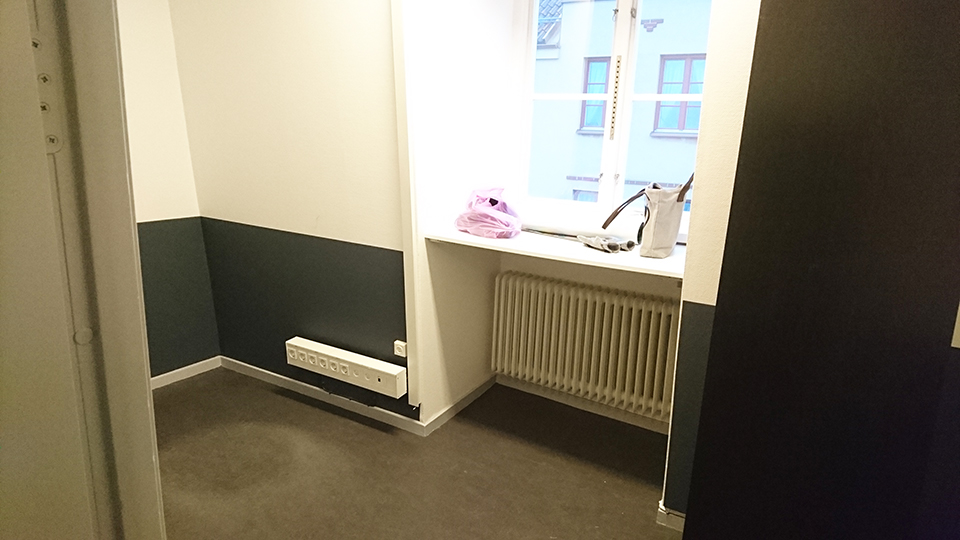 After we were done, we went to have lunch and went by a couple stores to buy a few things to make our office more cozy: a few plants (fake, so they won't die if we have to leave the office for a few days), a clothes hanger where we can put our coats, and a few decorations for the window (including a cute little christmas tree):
The whole place feels very cozy now, and we're very happy with the space. At first we thought it might be a little on the small side, but we're really satisfied with the amount of room we have and how comfy we could make it.
The only sad part, as mentioned, is leaving behind the cats – but the walks and ability to separate work and free time should be worth it! Already work feels much more focused and distraction-free, so that's great :)
Now, let's jump straight into continuing the interior spree of the Arcadia Rework! It's time to take a look at the Cinema, another of those brand new buildings that don't exist in Story Mode. Here, you'll be able to watch replays of your previous Arcade runs, and even share them with your friends.
While most of this will take place in one of the ticket booths near the entrance, we couldn't resist adding a bit of a cinema feel with a big screen and some seats for flavour. Perhaps some NPCs will be here, watching a short movie on screen? Maybe some of them will even offer a quest of two!
The second to last interior before all the interior designs of the new and improved Arcadia are completed, belongs to the Aquarium! This place will feature a set of fishes that you captured during your run, as well as the typical souvenirs:
In the sketch, I included a set of fish shaped balloons, but I think we'll let Fred make those from start to finish since they will need to be animated to really have that proper balloon feel! For now, here's what the Aquarium looks like, sans the proper fishes and mentioned balloons:
And now, the final part of the Arcadia rework (interior wise, anyway): the Dojo interior! This is another building that exists in Story Mode, and may have its old version replaced by this new Arcade version. It's designed to have a big enough fighting area for you to prove yourself in a set of challenges, as well as a shield block training session we may include in the earlier parts of story mode: we'll see!
Without further ado, the WIP video:
And the finished version! I thought it'd be cool to save some space at the bottom where Master Ji's apprenticed can stand and watch/cheer for you as you do your challenges! In the section above, the master himself will spectate your progress: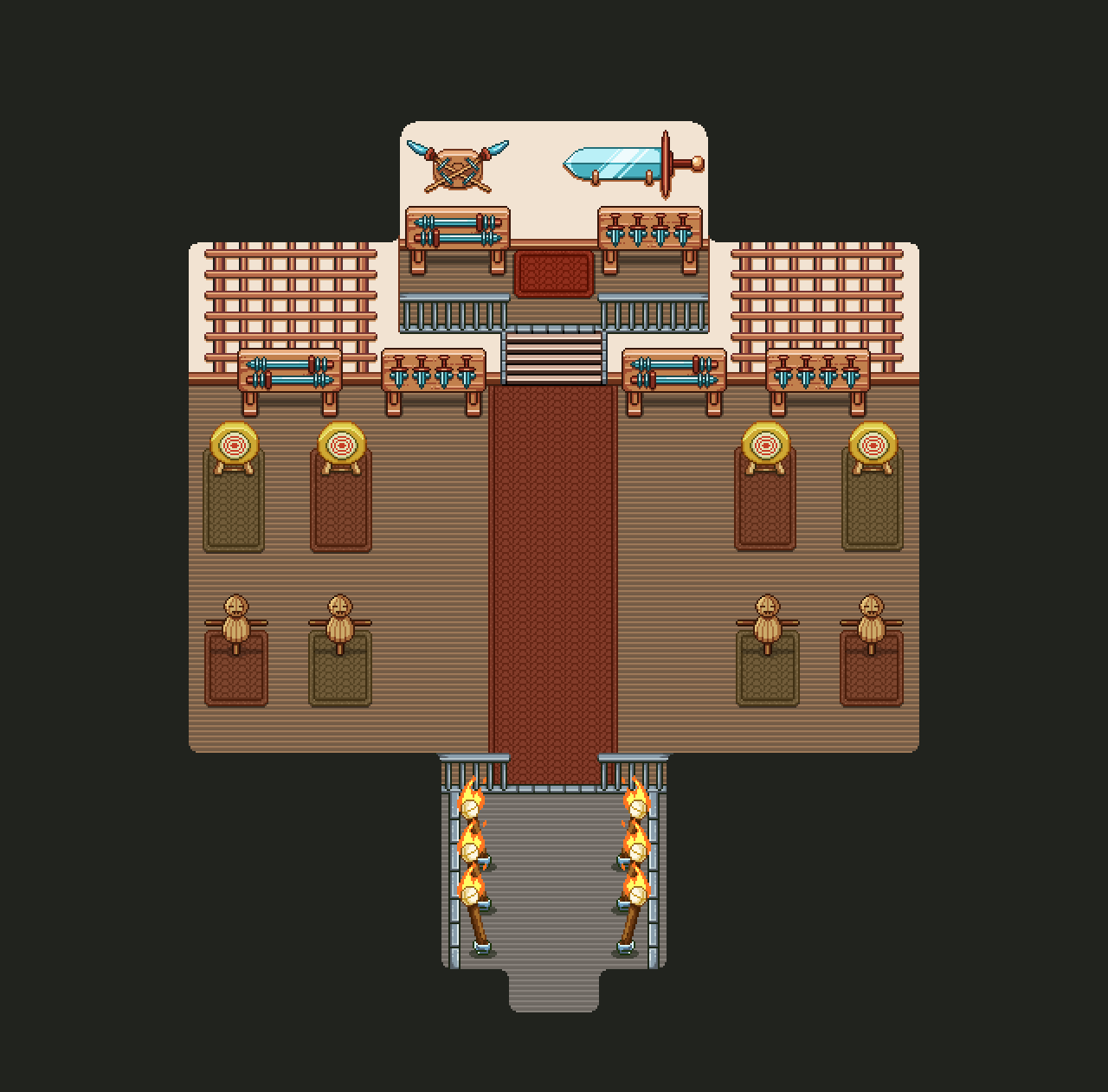 As for Fred's department…. It's time to introduce a new character of quite some importance: the Trunk!
This little guys will be the equivalent of Bag, but for Arcade Mode. We didn't have a character like this in Arcade Mode previously, but the more we thought about it, the more we felt it was lacking somehow. It kind of felt strange to have bag say random things when he isn't even a character in this part of the game, and as we start to get to the point where we need to design how to unlock the new features, we felt a sidekick that can help you understand how to do that felt more interesting than random info boxes.
Aside from being your sidekick in the Arcade Mode portion of the game, bag and trunk have very little in common, though! This little fellow is cheerful and happy, excited to be a part of your adventures. (Well, maybe Bag is too, but he doesn't show it half as well as this one!)
Stay tuned for more information about this new character and how you'll interact in Arcade Mode!