This week we've taken a slight break from the desert to add some final touches to Arcade Mode in preparation for launching the Arcadia Rework on stable (which has now been done)! Aside from the sound effects, we wanted to add a couple of new quests and mechanics, one which is brand new and will probably also make an appearance in some form in Story Mode: Photography!
Above you can see the first WIP of the photography mode, basically it's a camera you equip which allows you to take a photograph of whatever is happening right now. You'll be given quests by a photographer who wants you to take photos of certain things, and once you give her a picture of what she asked for, she will give you a reward.
Upgrades graphics seen below, along with an indicator for whether it's the right motif of not (not only will Trunk tell you it's wrong, there will be an 'x' showing it as well):
The rewards in question will be a painting version of whatever you were asked to take a photo of. Of course, that means I had to make a few paintings featuring that:
I accidentally forgot to record making the background for the Giga Slime hammer painting, so it kind of looks like it magically manifests at once, haha! Oops… Anyway, here are the three painting that will be available so far, more to come:
Next up, a return to the Temple of Seasons! No, don't worry, we haven't gone crazy! This isn't exactly a Temple of Seasons room as much as it is an extra Arcade Mode room :)
This, too, will feature in a newly added quest, and is based off of a room from story mode, though for the sake of Arcade Mode we're mixing it up a little, making it a mixed seasons room rather than a simple autumn room:
Do you have any ideas of whom you might meet here? Finished thing: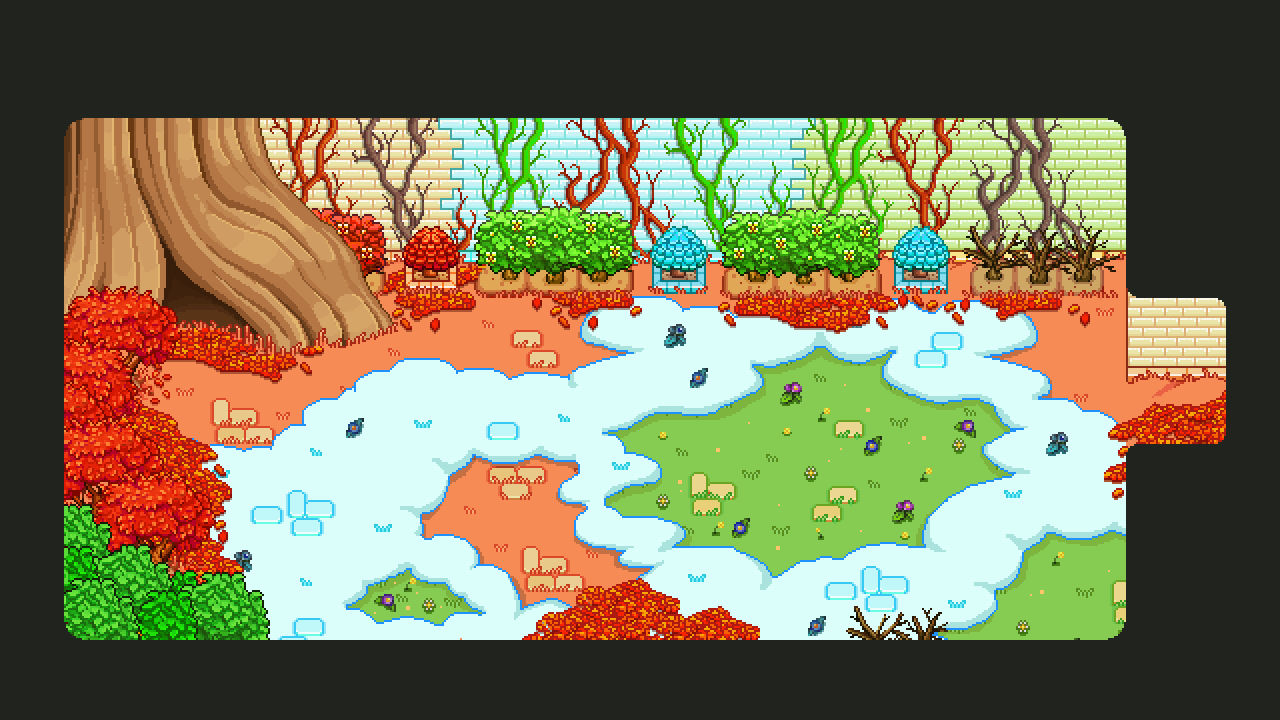 Some new, quick sprites have been made as well, this time a bunch of rewards for the various quests (fae wings for your head! wohoo!), as well as the camera used for the photography quests and a sack of bird feed for another quest featuring another well-known face from Story Mode, who wishes to see some birds in Arcadia!
I've been particularly bad at hitting that 'record' button so once more I forgot to record a whole section, namely the bird feed bag… Oh well :D
Now, back to those portraits! This guy is a card player found in the Saloon near the desert town. After this there are 10 portraits left, though Fred keeps adding new NPCs so we'll see where it all ends! :D Did you know that so far, not counting the portraits I haven't made yet, there's 40 NPCs unique to the desert area!? In other words there will likely be over 50 before we're done! Oh my…
Finished version:
We'll end this week with one more portrait, this time the quirky sword smith from the market area in the desert town:
Nothing much to say about this one! Just another silly face :) More next week~