Okay! Who's ready for more desert fixes?! Seeing as we've named the desert Dragonbone Dunes, we wanted to add more dragon stuff to the area. First step is to make some dragon head statue pillars:
We also wanted to decorate those walls with some dragon wing plates:
But not all fixes on this map are of the dragon-decorative kind! There's also a puzzle, which, as it's now been properly designed, needs a more permanent background:
As part of the puzzle, we decided to add a bonus chest as well, so made a slight extension of one of the rocks to make room for that:
Behold the progress so far, almost done: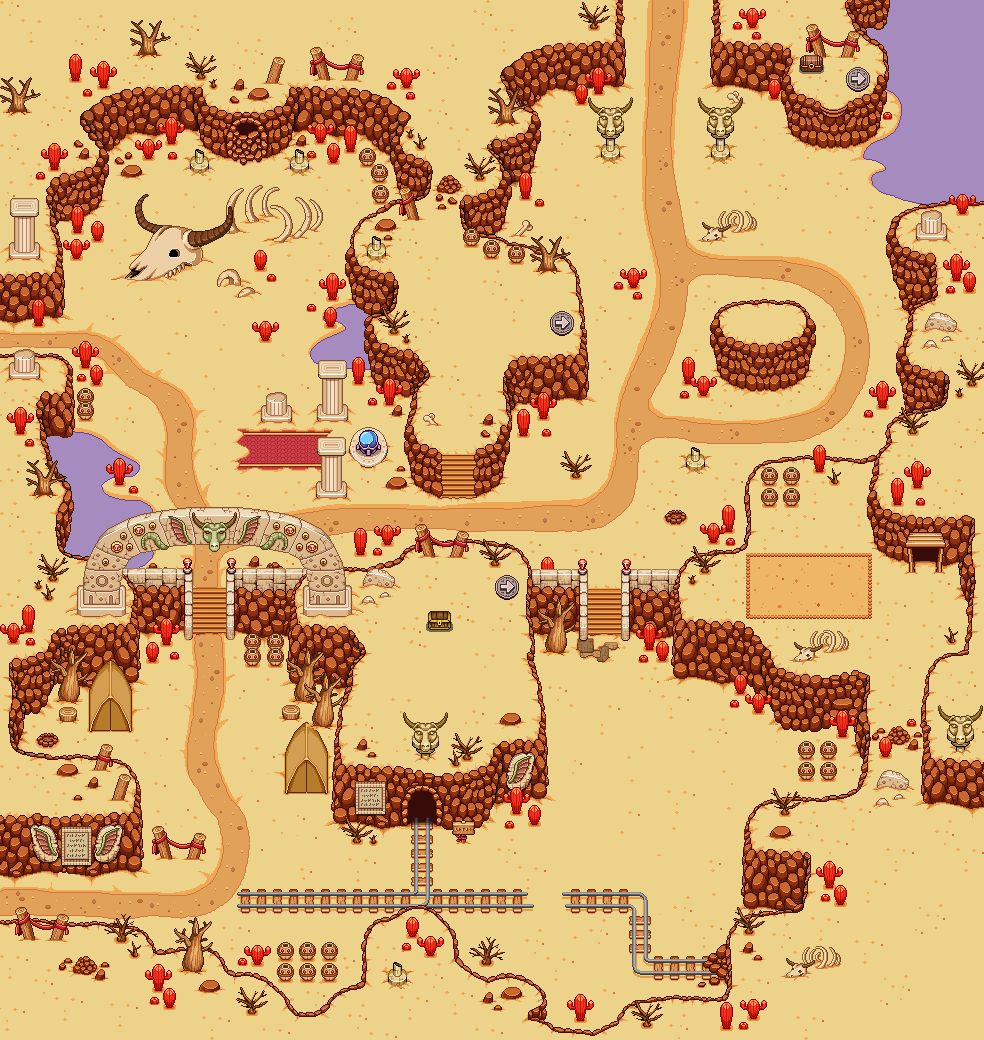 …actually, scratch that! Since the cave in the middle is a mushroom cacti cave, I thought it'd be fitting to put a bunch of them outside as well:
In the animation department, Fred has been hard at work with some cool environmental things that will appear in the desert! First up, we have the frozen cacti that will unlock a shortcut further into the desert, once you reach a certain season orb:
Second, a rope ladder! Since there's a place where we really want the player to be able to move up and down quickly (though only after getting there the first time), we decided to introduce a rope ladder that you'll be able to 'activate' after making your way to it.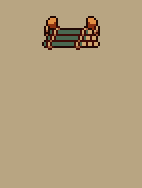 No desert is complete without tumbleweed, so Fred has been experimenting with getting those up and running as well! Here's a bunch of his WIP ideas:
He's also making more NPCs, and here we have the progress sheet of the old scientist looking for ghosts! We've decided to name her Dr. Spengler as tribute to a special character in this sort of field. Who do you think that is?
As for something completely different: as I believe we have mentioned, once you complete Tai Ming, flashback orbs will activate throughout all of Grindea. While we haven't added any just yet, these flashback orbs are set to give you insights into events that happened before you were around; stories of your parents, Zhamla, and other important events that have occurred throughout the world.
As part of the desert update, at least before it gets released on stable, we'll include a set of these with more to be added in later updates.
The ones we'll include in this update features memories that give some insight into your mother's friendship with the fae, how your parents met, and how Zhamla found his first card! While they might not be vital to the story as a whole, we feel that each of these orbs will give some depth to the world and the people within it.
The dialogue for these have already been written, but we'll return to actually implement them once the rest of the desert is done; likely while you guys are all busy beta testing those new enemies and boss fights!
In the end, once the game is done, we want to add plenty of these orbs, to give you a glimpse of many different things of the past. Are there any events or characters in particular you'd like to see? Let us know and we'll see what we can do!
As or the portraits this week, the first one features the hat salesman of Port Monnaie, which we actually have decided to give quite a story. Because Helmut is a real life name that's simply too good to pass up on, we decided to name this guy just that. However, seeing as we have a helmet called Helmit, we didn't want to confuse people too much by having two characters with very similar names…. So we decided that Helmut and Helmit will be friends!
As such, you old acquaintance from Tai Ming will make a comeback in the desert town, where he'll be hanging out with this swell fellow:
Finished sprite:
And you can't have a beach town without tourists, so the second portrait this week will feature a guy shopping for souvenirs at the market place in Port Monnaie: currently, he's very interested in a t-shirt!