Alright! Time for what I *believe* will be the final batch of fixes (on my end, anyway) for the desert before the patch lands! There's still a portrait or two left, but here's a bunch of the minor additons I've been working on:
First up, a Merchant Isles' sailor hat, that might become yours if you complete a certain quest! Another item that is involved in a quest is the below part of a statue:
This farmer is a character who you'll meet in these new quests as well, so I've been making a couple of expressions for him:
Meanwhile, I wasn't completely happy with the anatomy of the mayor's portrait, so I've made a slight fix for it and also aged her slightly (old version first, then the new one):
There's a couple new items as well, which means there's need for more drop appearances! Among these are a bottle based on an animation made by Fred (you can see his sprite on the right in parts of this WIP-gif), as well as a tomato and an onion!
We also changed the layout of the mayor's house a bit, adding more items and characters, making the place feel more like the art/history exhibition it has become (old version first):
Finally, I wanted to increase the amount of greenery in one of the caves, so I went back and added a bunch of plants and leaves here and there:
Previously, I remade the portrait of the Mayor, but another portrait we weren't quite happy with was that of Wishi (who also happened to look oddly similar to the Mayor's first portrait):
Only one way of fixing this, and it's to throw together another portrait, this one giving a bit more of an attitude:
And the finished remake below:
As usual, you can't have a boss battle (even if it's a side battle not related to the main story) without a boss portrait. This portrait will be slightly different as it's the first one that has a sprite in front of the textbox! We thought the tomato would look cute in front of it, rather than have all his vegetables hidden behind the box.
WIP and finished version below: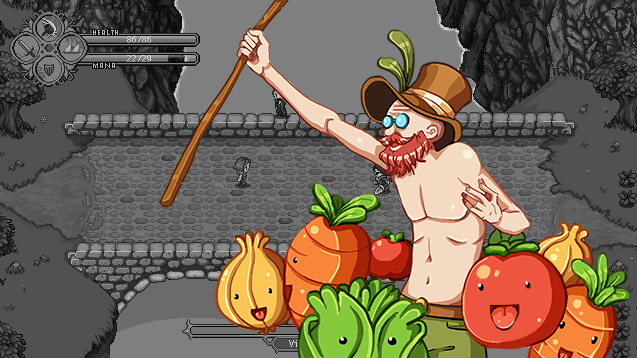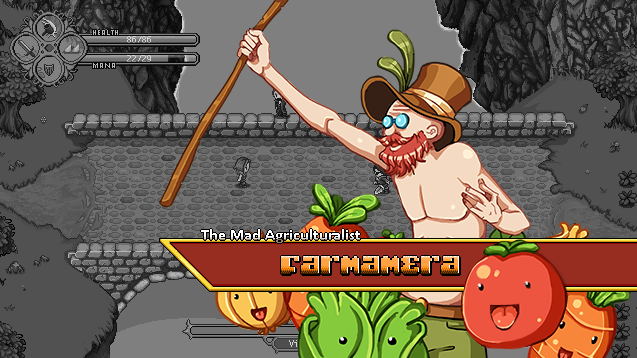 I'm working on the cards as well, and while they may not be included in the patch, they should be added shortly after! Here's a video featuring the creation of the Sand Raven card, where one such annoying bird is preparing a meal: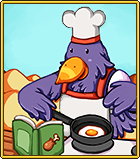 Now, a couple weeks ago I estimated that by now the patch would arrive! However, as you've certainly noticed, no patch has been uploaded yet – so what has happened? Well the short version is that we wanted to make things more interesting (don't we always), so the added work has pushed the patch forward by a couple of days.
In other words, we hope to release the patch in the beginning of this week instead (hopefully tomorrow)! Serves me right for making estimates, they just never end up being correct…
Anyway, in the meanwhile, have some sneak peeks of what you'll see in the upcoming patch, starting with a couple of animations for the desert carpenter:
Two more items:
Due to something you may or may not do, there will be changes in the desert map:

A new type of halloweed?!

Aaand a ton of new expressions for people you'll interact with: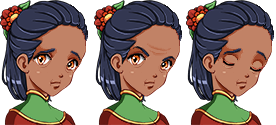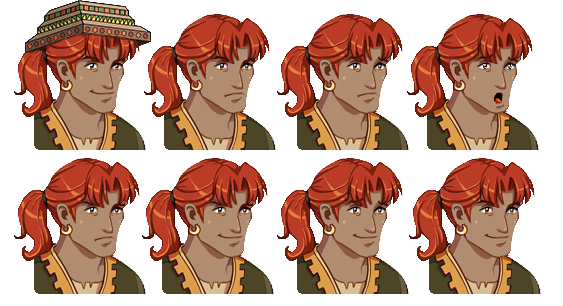 Stay tuned, and let's hope this estimate of the patch release will actually be right this time!!