Another new week, which we'll begin with some mixed fixes and additions! First up, a new version of the headless chef portrait, where his head has been replaced with… oh my… a tomato?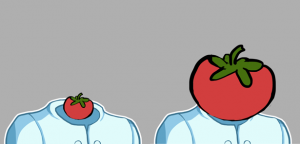 First of all we needed to decide which size this new tomato head would have, and to start off with we were unsure of whether we wanted a regular size or giant size tomato for the job – in the end we decided to go with the smaller one, and after playing around a bit with the sizing of the thing we got to this conclusion:
Now, how you get to put that tomato head on to a ghost's body is something you'll have to figure out for yourself!
Next up, a special type of door that will lead you in to the new Flying Fortress room I made last week:
We're not yet sure exactly where this door will appear in the fortress, so for now I made the door in a random room – it will move to another location once we know where we want to put the room!
And so finally, some smaller additions to the Pillar Mountains improvements I did so far; more to come:


Now I thought we'd take a little look at how it's going on with the Ghost Ship progress!
Teddy has been working hard to implement all of the stuff me and Fred made for him, which includes a bunch of cutscenes with the captain and some ghosts:
There's the ghost 'recruitment' system, which allows you to present items to ghosts in order to bring back the memories of their past selves:
As well as that fancy eye boss, which has another attack featuring epic laser redirection:
There's still a bunch of cutscenes and a bunch of puzzles to add, but the final floor is coming together slowly but surely. Soon we only have the final boss of the ship to deal with, which in itself will be an interesting but very exciting task…
Meanwhile in the portrait department it's time for one more ghostlike portrait! While the Chef now has a portrait without his head and one with a tomato instead of his head, his actual head needs a portrait of its own, now doesn't it? So, here we go:
Recognize this guy? Last time we saw him was in the past, in Tai Ming! But now he's back in a slightly less… living state. Whatever happened to him? Soon it'll be time for you to find out!
Finally this week, the boss progress continues and Fred has been busy making more and more attacks for giant eye you will be facing off against!