Time to plan out some more of the improvements needed for the Evergrind part of the game! Of course, the houses that use the old version of the Startington furniture needs to get the upgraded versions of that: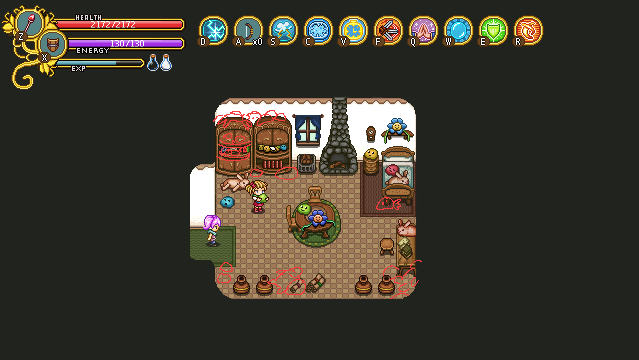 The area around the Smithy looks rather dull and the laundry hanging to dry could definitely be drawn better:
The entire café looks pretty outdated, so gonna have to do some revamping there as well:
And same for the alchemist's house, where I'd like to add even more clutter, some wild plants and other things to liven things up a bit and make it seem less drab and abandoned, and more like the colorful abode of a crazy alchemist:
So starting off with the first improvement batch, time to upgrade this little house, the first you see as you enter Evergrind City:
We've also had another meeting discussing the final dungeon! We have a bunch of ideas for specific challenges and rooms now. Some of the new ideas are as follows:
* A phase shift puzzle where you have to catch x number of items in a certain amount of time. Sort of inspired by the torch puzzle we'll have in the ghost ship where you need to light a certain number of torches in a short amount of time; here you need to get a hold of x pieces of a key (or something like that) in order to unlock the next room.
* A slime encounter where you get to battle every type of slime in the game! When you've killed them all, the goo they left behind will merge together into 4 bigger slimes, which will provide more of a challenge. After defeating these slimes, they will merge together into a rainbow giga slime, which will be a much more difficult version of the giga slime fight!
* A room surrounded by a ghostly essence that comes to life when you enter the ghost world (which you must in order to kill a number of ghost guardians) – for ever second you're in the ghost world, the ghostly essence will grow bigger and bigger and will hinder your movement and will end up damaging you
* An encounter with enemies from across the game and a master wizard that will turn them all into elites
* A room where you'll be trapped within 4 guardians that are connected with their laser beams; their movements will determine the size and shape of the space where you can move. Meanwhile you have to dodge a bullet hell, possibly summoned by phaseman!
* A challenge room with either Gifts of Presents (or both), which will eat a key and it's your goal to find and defeat the one who ate it.
* An overgrown room in which you'll battle every plant enemy in the game, ending with a short guest appearance from the power flower
… and more! Needless to say, we're getting more excited about this final dungeon by the minute. Hope you are too! :)
Now it's time for another look at Luke's boss battle! It's coming together quickly now, with a bunch of his attacks being mixed and match to create an interesting pattern for the first stages of his fight that will be unique every time:
Some of the effect graphics have been improved since the last time as well, and I feel like it already looks pretty good (with the exception of the placeholder background, hehe – I'll get to that eventually)!
What we want now is to amp up the second part of the fight. We already know he will enter berserk mode at a certain point, but aside from that we want to mix it up a bit so it's not just the same (random) mix and match combo patterns for the entirety of the fight. We have a couple of ideas for 'bigger' attacks that we'll try out in the near future though, so we'll see how that ends up!
And here we have a closer look at a bunch of those fancy Luke animations: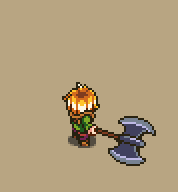 Exciting times!