Now, back to Arcade Mode for a bit. As you know there are a bunch of changes we've been wanting to make to Arcade Mode, among them a rebalancing and removal of the dual floors per area. We've decided to take some time to focus on Arcade things for now, and so today as part of our meeting we spend a couple hours playtesting the changes that have been made so far.
To start off with, there's now just one floor per area instead of the usual two. Some floors are slightly longer to make up for it (such as the first, where you battle Pillar Mountains enemies). The earlier floors have had their difficulty slightly adjusted as well, since we want it to be possible for players to get further – at least in terms of areas, compared to before.
Some gauntlet style rooms have been added, meaning new enemies will spawn as you defeat the ones already in the room when you enter. We've tried it out both with an indicator for such rooms (meaning you will know before hand that the room you enter will spawn more enemies), and without. Which one we will go for in the end depends on how common and normalized we want these rooms to be: either they will be rare, special occurrences, meaning an indicator might be fitting, or they will be so common that it makes no sense to indicate them as anything special.
For now, to make it easier to see what is happening, we have a special spawn indicator for which enemy will spawn right before it does, to avoid any unpleasant surprises for the player. Whether this will still be the case or whether the new enemy will simply appear in a puff or smoke is still something we will need to test further.
Right now it feels somewhat odd to have cut down the floors this much, but we do feel like the overall length of a run will be a lot better compared to having to battle through twice the amount of floors to get to the end. We don't want the player to have to fight his or her way through floor after floor for hours to finish a run! More testing will need to be done, though.
Another thing we've been playing around with is ideas for how to make each run a bit more unique compared to your previous runs, challenging you to change your play style or at least experience things more differently. We feel that right now each run is very similar to the last one, and a player is rarely encouraged to try new skills. Last week we talked about a feature we wanted to add to help out with that (Badges – which we have now renamed to Pins) and this week we have tried out some of those as well.
As a reminder, a Pin is something that will affect your run in some way, giving you certain bonuses while sometimes coming with a negative on the side (though mostly you will just get something nice). For now, we've divided the pins into seven categories depending on what they affect, such as: Arrows, Skills, Basic Attacks, Room changes, Passives, Potions and Shield.
Some examples we've been testing this week include:
* Casting a spell fires an arrow.
* Hitting an enemy with an arrow casts a meteor
* Three arrows drop after each regular battle room
* The first spell in each room is a guaranteed crit
* Every 5th spell deal triple damage
* A fae follows the player and casts a fire ball every few seconds
* Each basic attack increases the damage of your next skill
* One enemy in each room receives an automatic death mark when you enter the room
* Perfect Guarding an enemy causes them to be death marked
So far, we've quite pleased with how these serve to make each run a bit more different compared to the last, especially ones that encourage you to use other skills or abilities than what you'd normally use. We also have a ton of ideas for more pins we want to test and play around with; the current pool isn't too big so repeats tend to happen quite often during our test runs. We also feel the lack of a proper interface; right now there's simply a message in the chat letting you know what badge you've gotten and what it does.
In order to properly test this and how it feels, we'll therefore start working on a basic interface for distributing your pins, as well as some basic proper graphics for them to see how it all feels with some more visual cues.
Right now you will receive a pin for defeating a boss, but we've also played around with awarding them in chests or for challenges. The exact amount and what you'll receive pins for are yet to be decided, but for now we feel like it feels the most rewarding to get it post boss fight. As of now, you'll be able to have four pins, and if you receive any more past that you will need to replace one of the ones you currently have.
Part of our daily tasks right now is coming up with more pins to add, so there will be enough that each run feels new and fresh. Do you have any pins you'd like to see? Let us know and we might end up adding it :)
So in order to get a true feel for the whole Pin system I've been tasked with making an interface for it where you select whether to equip, replace of throw away a new bag that you get.
We started of with this super basic sketch:
And translated it into something slightly more visually pleasing:
And here's the interface the way it looks currently: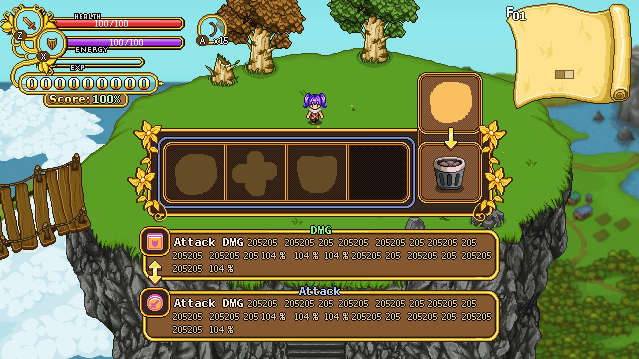 "Attack DMG" in white represents the name of each pin. Green "DMG" above the first info box is supposed to say "New", while the blue "Attack" above the second info box is supposed to say "Current". The numbers represent the descriptions. However, these designs might change slightly as certain translations need a bigger font size than the rest of the game, and we try to design everything so that it will work out in any translation. In other words: we'll see!
Next up, making some actual pins to try this whole thing out with:
Pins will come in many shapes and colours, but for now I'm starting off with this color, making it in a variety of different shapes with icons to match. They all use the same palette so colour swapping will then hopefully be easy enough!
In Fred's department, he's been working on giving the pins proper representation as sprites! Like most other things, this involves a lot of iterating and trying out different ideas and designs:
With the final result looking something like this: