A big hug to everyone who's subscribed to us on Facebook, Twitter and other places! Having people show interest in what you're doing is a great morale boost.
Let's celebrate with a recap of the past week!
Fred has made some sweet animations for our first miniboss: a familiar looking, female bandit leader! She's no behemoth but she might still prove a challenge to the inexperienced adventurer.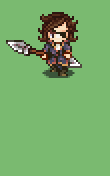 Meanwhile, Vilya has started building houses for the main city while battling a terrible cold. The buildings below are common residencies – the shops and other special houses will have huge signs on the roof implying what use they have.
Here's the sketch she used as reference:
And here's the end result (still to be tweaked):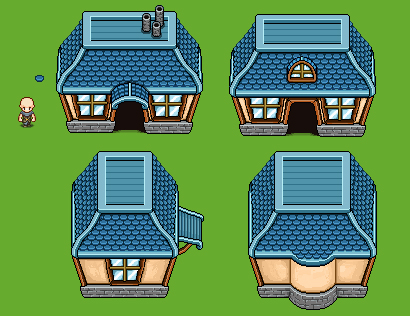 The city is going to be fairly big, featuring about 15 buildings (including a smithy, an alchemist store, a hat store, a café and more), a market and the grand Colosseum!
In the coding department, a recoloring shader was made to make the creation of new clothing colors easier. First, a tool turns every spritesheet into a Na'vi, and in-game the shader will recolor it.
This makes it possible to change the colors of individual pieces of clothing separately on the fly, without any additional asset loading.
Next time: The miniboss will be put into the game, and the citybuilding will continue! Maybe we'll see some NPCs?!